Nintendo Income Forecast Falls Short as It Seeks Another Hit
by and
No boost from new NX gaming device, set to debut March 2017

Miitomo mobile app has attracted more than 10 million users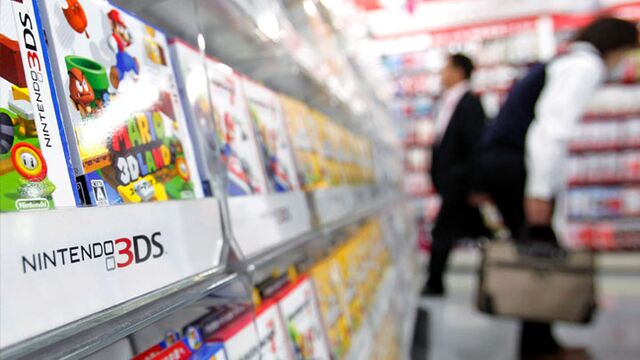 Nintendo Co. forecast full-year profit short of analysts' estimates, casting doubt on the gaming company's ability to deliver a new hit product to follow dwindling Wii U console sales.
Net income will probably climb to 35 billion yen ($315 million) on revenue of 500 billion yen in the year ending March 2017, the Kyoto, Japan-based company said in a statement Wednesday. While that's more than double the previous period, the forecast is below analysts' projection for 44.1 billion yen, according to the average of estimates compiled by Bloomberg. The shares of Nintendo fell 6.1 percent in German trading following the announcement.
Nintendo predicted that Wii U sales will fall to 800,000 units from 3.26 million, while those of 3DS will decline to 5 million from 6.79 million. Tatsumi Kimishima, Nintendo's chief executive officer, said two new smartphone games -- Animal Crossing and Fire Emblem -- will help bolster profit this year. Nintendo said Wednesday that the NX, the company's next gaming platform, will debut in March of next year.
"Given market hopes that as its famous characters will slowly be imported in games targeting smartphones, we believe its poor forecasts might be ignored," Amir Anvarzadeh, manager of Japanese equity sales at BGC Partners Inc., wrote in a note on Wednesday. "NX will also keep some investors hoping for a gradual recovery."

Animal Crossing is a community simulation game series where players earn currency by trading and mastering skills like fishing. The franchise sold more than 20 million units on the 3DS and its predecessor, according to Nintendo. Fire Emblem is a role-playing game, also available on the handheld.
"These two smartphone games will appeal to different user demographics" when they go on sale in the fall this year, Kimishima said at a briefing in Osaka. "We chose two different genres to appeal to as many Nintendo fans as possible."
Revenue fell 8 percent to 504.5 billion yen for the year that ended in March. Net income was 16.5 billion yen, compared with 41.8 billion yen a year earlier.
Nintendo shares jumped 33 percent in 2015 after the company said it planned to develop titles for iPhones and other mobile devices. Miitomo lets users automatically generate a cartoon-like avatar using a photo taken on the smartphone, and tweak minute facial features, set personality parameters and choose the character's voice. Still, Nintendo was criticized last year when it said the app would be free-to-play, and didn't include characters from its popular Mario and Zelda gaming franchises.
Mobile Optimism
More than 10 million Miitomo users have registered since the app's March release, the company said on Wednesday. It also topped U.S. and Japan rankings for free-to-play iOS apps, according to market researcher App Annie. SurveyMonkey Intelligence estimated the messaging-based app is making $280,000 a week.
Nintendo teamed with DeNA Co., operator of the Mobage network, to create mobile games and operate new membership services that will eventually -- though not immediately -- include applications based on Nintendo's character lineup of plumbers, gorillas and princesses. Kimishima has said the next game will dip into its stable of beloved characters.
Nintendo has previously said it plans to release five smartphone titles by March 2017. The company didn't disclose how much mobile games will contribute to profit this fiscal year and said the NX sales are reflected in the outlook. It did not give a unit forecast.
Further out, the company may end production of Wii U hardware in the year to March 2018, to focus on NX output, Kimishima said, declining to give further details.
"NX is a different concept gaming machine," he said. "It will allow for a whole new way to experience hardware and software together."
Before it's here, it's on the Bloomberg Terminal.
LEARN MORE