Loeb's Third Point Says Hedge Funds in 'Catastrophic' Period
by and
Hedge funds in first innings of 'washout,' firm says in letter

Increasing complexity in markets is here to stay, firm says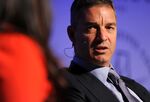 Third Point, founded by Dan Loeb, said hedge funds are in the first stage of a "washout" after "catastrophic" performance this year.
"There is no doubt that we are in the first innings of a washout in hedge funds and certain strategies," the New York-based firm said in a quarterly letter posted late Tuesday on its website.
The $2.9 trillion hedge fund industry had the worst start to a year in returns and outflows in at least seven years. Alan Howard's Brevan Howard Asset Management and Paul Tudor Jones' Tudor Investment Corp. are among the firms that clients are pulling billions of dollars from, while managers including Bill Ackman and John Paulson have posted steep losses.
Hedge funds lost 1.9 percent in the first quarter, according to Hedge Fund Research's global index, the poorest performance since 2008. The industry had net outflows of $16.6 billion in the last two quarters, the most since 2009, according to HFR. In 2015, 979 funds closed, more than any year since 2009, according to the research firm.
Third Point, which was founded in 1995 and lost 2.3 percent in the first three months of this year, described the industry's performance as one of the most "catastrophic periods" that it could remember since the firm was started. It said the "increasing complexity" in markets over the past few months is here to stay.
Market Neutral Carnage
Most investors were "caught offsides at some or multiple points" since August, Third Point said, when China's surprise currency devaluation roiled global markets. The firm said market participants were hurt by bets against the yuan in February and investments in Facebook Inc., Amazon.com Inc., Valeant Pharmaceuticals International Inc. and Pfizer Inc.
"Further exacerbating the carnage was a huge asset rotation into market neutral strategies in late the fourth quarter," Third Point said. "Unfortunately, many managers lost sight of the fact that low net does not mean low risk and so, when positioning reversed, market neutral became a hedge fund killing field."
Market neutral is a strategy where wagers against securities are matched with bets on assets.
Third Point said volatility is bringing "excellent opportunities" for those who actively manage their portfolios. The firm said it likes Dow Chemical Co., which announced a tie-up with DuPont Co. in December. It's also optimistic about Anheuser Busch InBev.  
Before it's here, it's on the Bloomberg Terminal.
LEARN MORE