markets
JPMorgan Sees Draghi as Buyer of Last Resort for Equities
By and
ECB purchases have helped European bonds beat stocks

Investors are losing faith ECB stimulus can spur equity gains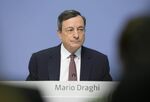 For equity investors, Mario Draghi's adventures in the credit market have been something less than a boon.
Since the European Central Bank president began his bond-buying program in 2015, the MSCI EMU Index of euro-area companies has lost 7.4 percent through yesterday, including dividends. An index of non-financial high yield credit has returned 1 percent, pushing the gap between the two to the widest since 2014 this month.
Even a 16 percent rebound in the equity gauge since Feb. 11 hasn't been enough to revive investors' faith. They've pulled more than $17 billion out of European shares in the past eight weeks and added $11 billion to credit funds, according to a Bank of America Corp. report citing EPFR Global data. 
With a stronger euro damping an already lackluster earnings outlook, JPMorgan Chase & Co. says one buyer could conceivably stop the bleeding: the ECB.
"It's a natural next step," said Nikolaos Panigirtzoglou, a London-based strategist at JPMorgan, who says the central bank may begin purchases as soon as next year after first considering bank bonds and loans. "The more direct the ECB is in the way it buys assets, the better. There is a higher chance of changing or at least influencing the behavior of economic agents by buying mortgages, bank bonds or even equities."

Fund managers are not confident ECB stimulus will be a source of growth, turning the most bearish on the European economy and corporate profits in more than three years, according to a Bank of America survey published April 12. They see the failure of quantitative easing as the biggest risk to markets, according to the report.
Economists say the ECB could expand monetary policy again as soon as September. And while including equities in its asset-purchase program would likely face opposition, it's being done elsewhere. The Bank of Japan, which is now the top 10 shareholder in about 90 percent of the Nikkei 225 Stock Average's members, has been buying equity-linked securities since December 2010. The country's stocks are up about 70 percent since then.
For Teis Knuthsen at Saxo Bank A/S, it's a dangerous and unproductive road.
"That's just madness," said Knuthsen, chief investment officer at Saxo Bank's private-banking unit. "Equity markets don't need more ideas from Draghi, they need earnings growth. That's the elephant in the room. Europe's equity market looks like it has no momentum at all."
Morgan Stanley's Matthew Garman says there isn't much the ECB can offer to spur interest in the region's equities. With the euro up 4.4 percent since Draghi started the bond-buying program and economic data still missing estimates, he says returns on stocks will be meager. Analysts predict euro-area companies won't increase their earnings this year. The MSCI EMU index was little changed on Thursday.
"While Draghi's QE has put pressure on credit yields, there seems to be little he can do for equity markets," said Garman, a London-based equity strategist at Morgan Stanley. "It all comes down to the currency and a fragile global economy. Equities are behaving as if the ECB has reached its full potential impact on the market."
(
Updates with today's stock index move in penultimate paragraph.
)
Before it's here, it's on the Bloomberg Terminal.
LEARN MORE