Iran Amendment Stalls Senate's Plans to Pass Spending Bills
By , , and
Provision from Republican would block Iran heavy-water deal

Senate was hoping to advance Energy-Water appropriations bill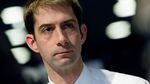 For a brief time this week, the Senate appeared to be ready to shake off its reputation for stalemate by restarting the process of passing regular U.S. government spending bills.
But a dispute over a Republican amendment that would target a portion of the Iran nuclear deal threatened to scuttle the effort to pass a $37.5 billion bill that would fund the Energy Department and several other agencies.
Democrats were furious after Senator Tom Cotton of Arkansas introduced an amendment that would block the administration from buying heavy water, which is used in some nuclear reactors, from Iran. They said the move could mean an end to cooperation on passing spending bills.
Senators voted 50-46 on Wednesday, blocking the spending bill, H.R. 2028, from advancing, leaving the bill's status in limbo. It needed 60 votes to advance.
"I don't want it to end this way," said Senator Dianne Feinstein, the top Democrat on the Appropriations subcommittee that funds the Energy Department, of the spending bill process. "Why destroy our chances? Because that's exactly what's happening."
Arguing that the amendment violated an agreement to avoid politically charged amendments on the spending bills, Democrats also said the White House threatened to veto the entire measure if the provision were added.
No 'Good Faith'
"Senator Cotton has long made it clear that he will do anything to prevent the effective implementation of the Joint Comprehensive Plan of Action with Iran," White House Press Secretary Josh Earnest said Wednesday in a statement. "This amendment again demonstrates that Republicans have no intention of moving forward with a good faith effort to fund the government through the normal appropriations process."
Cotton, for his part, said that he doesn't "want to see the appropriations process end" so he's "committed to work with good faith" to "try to reach some solution on this bill or any others as well as ensure that the U.S. taxpayer is not subsidizing a critical component of Iran's nuclear industry." 
On Friday, the U.S. State Department confirmed that it reached a deal to purchase less than $10 million of heavy water from Iran, saying such transactions were envisioned under the nuclear deal between the Islamic Republic and world powers.
Senator Lamar Alexander, who chairs the Appropriations Energy-Water subcommittee, said on the floor that Cotton's amendment would not actually block the heavy-water deal, since the Energy Department has access to funding from previous fiscal years.
After the vote, Senate Majority Leader Mitch McConnell angrily charged that Democrats had found "yet a new way to blow up the appropriations process."
'This Snag'
He vowed to continue consideration of the bill to "work past this snag" and to bring up more spending bills. 
Democrats said their opposition wasn't simply about defending the administration's Iran deal.
Senator Chuck Schumer of New York said the bill will have to be blocked for now because it would set a precedent for adding other so-called poison pill policy riders to other appropriations bills.
"This is totally extraneous and at the last minute," Schumer said. "If this happens, they'll do it again and again and again."
Senators could keep negotiating on the bill and still find a way out of this dispute. But the spending bill process is also looking shaky on the House side, where Republicans have been unable to agree on a budget resolution and remain split over how to handle spending levels for the 12 different appropriations bills.
Until this last-minute glitch, the bill had been speeding toward passage.
'Bipartisan' Measure
Alexander shepherded the bill, sharing much of the credit for the "uncontroversial" and "bipartisan" measure with Feinstein.
"Before we overcome ourselves with self-congratulations, let's remember that you don't give a Boy Scout a merit badge for telling the truth," Alexander said at a committee meeting last week. Processing spending bills "is what we're supposed to do," he added.
The bill would provide $37.5 billion for the Energy Department, Army Corps of Engineers, parts of the Interior Department and other agencies in fiscal 2017. That's $355 million more than was allocated in fiscal year 2016 and $261 million more than Obama requested. It also includes a roughly $1.2 billion increase for the defense-related programs housed within the Energy Department compared to the previous year.