Glaxo Profit Rises for First Time Since 2013, Tops Estimates
by
Sales of blockbuster medicine Advair plunges 19 percent

Shares climb by 2.2 percent, most in three weeks, in London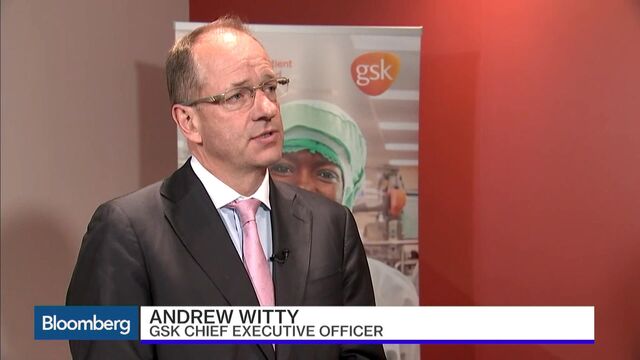 GlaxoSmithKline Plc reported its first increase in quarterly profit since 2013, as demand for its vaccines and new drugs helped offset declines in the sales of its blockbuster Advair.
Profit excluding certain costs, labeled by the drugmaker as core earnings per share, rose to 19.8 pence, the London-based company said in a statement on Wednesday. That topped the 17.9-pence average of analyst estimates compiled by Bloomberg.

Shares of Glaxo rose 2.2 percent, the most since April 6, to 1,491 pence as of 2:19 p.m. in London trading. The stock has dropped 4.5 percent in the last year.
"A rebound has started, if measured from the rather deep hole that had been dug," Sanford C. Bernstein & Co. analyst Timothy Anderson wrote Wednesday in a note to investors.
Sales for the three-month period climbed 6 percent on a constant exchange rate basis to 6.23 billion pounds ($9.1 billion). That excludes revenue in the year-earlier quarter from the cancer business sold to Novartis AG in a three-part transaction in March 2015 and including operations of the enlarged vaccines and consumer-health divisions.
As part of that deal, Glaxo bought the Swiss drugmaker's vaccines unit, while pooling their over-the-counter products into a joint venture controlled by the U.K. company. Vaccine sales climbed 23 percent on a constant exchange-rate basis to 882 million pounds, helped by U.S. government purchases.
Revenue from its blockbuster respiratory medicine Advair, sold as Seretide outside the U.S., plunged 19 percent on a constant exchange-rate basis to 753 million pounds, falling short of analysts' estimate of 788 million pounds.
Revenue from lung medicines declined 2 percent to 1.42 billion pounds, mainly because of a 24 percent decline in Seretide sales in Europe. The company previously forecast that revenue at the division would return to growth this year.
"We do expect to grow our respiratory business this year," Chief Executive Officer Andrew Witty said on a media call. "The revenue growth will be lower than the volume growth because obviously part of the effect of genericization impact is price."
The drugmaker said it expects 2016 earnings per share to grow 10 percent to 12 percent on a constant-exchange rate basis. On that basis, profit rose 8 percent in the quarter.
Revenue from Glaxo's other key drugs in the first quarter:
Triumeq at 328 million pounds versus estimate of 321.4 million pounds
Tivicay at 188 million pounds versus estimate of 192.4 million pounds
Breo at 111 million pounds versus estimate of 116 million pounds
Anoro at 33 million pounds versus estimate of 38.3 million pounds
Avodart at 132 million pounds versus estimate of 128.4 million pounds


Glaxo's consumer health business margins widened to 17 percent, up four percentage points from a year ago. The drugmaker has said that it is targeting margins of more than 20 percent for the division by 2020.
"We are on a very good track to meeting our target, and it may well be that we hit that target earlier than we had originally anticipated," Witty said.
Before it's here, it's on the Bloomberg Terminal.
LEARN MORE