Fink Says China to Do Well This Year as Bubble Threat Postponed
by
China pursues `very aggressive' monetary policy to lift growth

May mean the bubble will be bigger in 2017 and 2018, Fink says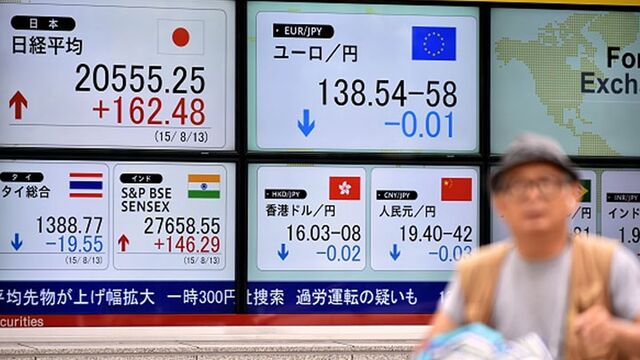 BlackRock Inc.'s Laurence D. Fink says investors will be sorry if they're not betting on China this year. Just don't stay there too long.
China's leaders are trying to aggressively reboot the economy, measures that will result in higher economic growth than many expect today, Fink said in an interview with Bloomberg Television's Erik Schatzker. The measures may create a bigger credit bubble down the road which may ultimately burst, a risk that Fink put at 20 percent.
"I think in 2016 you'll look back and think 'I wish I was in China'," said Fink, whose firm is the world's largest asset manager with $4.7 trillion overseen for clients. "I think the equity market will do fine this year. I'm not telling you it's a great long-term trade."
The People's Bank of China in February announced it would cut the amount of cash that lenders must hold in reserve, a step that analysts said would make cheap credit more available to borrowers in the country who were struggling to repay debt. This and other steps helped the Chinese economy stabilize during the first quarter, with gross domestic product rising 6.7 percent from a year earlier.
Some investors are betting that China's stimulus efforts will create a credit bubble that will eventually pop, devastating the economy. Kyle Bass, the founder of Hayman Capital Management, a Dallas-based hedge fund firm, told investors earlier this year that China's banking system may see losses more than four times those suffered by U.S. banks in the financial crisis.
So far, betting against China has been a losing proposition for hedge funds. Third Point, founded by Dan Loeb, said in a letter posted Wednesday that wagers against the Chinese yuan, materials and companies exposed to the country contributed to a "catastrophic" performance in the industry this year. Hedge funds lost 1.9 percent in the first quarter, according to Hedge Fund Research's global index, the poorest performance since 2008.
"Many of our hedge funds believed there was going to be an event in 2016, they're going to need to devalue," Fink said. "And I went out publicly saying that's not going to happen in 2016."
As the host of this year's Group of 20 conference, an international forum among governments and central bank governors from the world's major economies, China wants to make sure it is a "beacon of growth," Fink said.
"China is looking way beyond what we thought it would look like in 2016," Fink said. "Am I worried about the manner in which they're accelerating their economy? Yes. Does it mean there's more potential for a bubble and a burst? Yes. But it may not happen if they navigate it."
Before it's here, it's on the Bloomberg Terminal.
LEARN MORE