Fed Waits for Economy's Green Light to Hike as Risks Abate
by and
Statement signals optimism about consumer spending, jobs

Policy makers refrain from definitive signal on June rate rise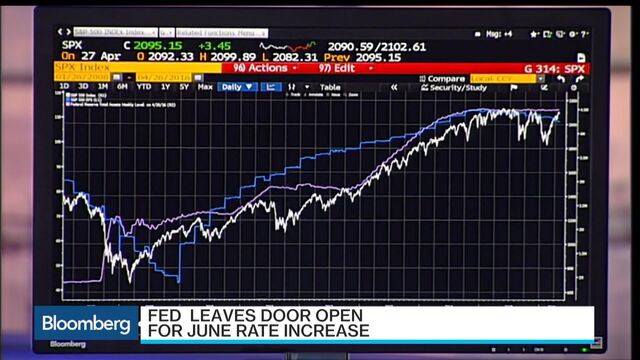 The strong conviction about growth, inflation and global stability needed to raise interest rates didn't show up for officials at the Federal Open Market Committee meeting this week. They're still open to finding it soon.
U.S. central bankers skipped an interest-rate hike for the third straight meeting since kicking off the tightening cycle in December. Their statement suggested they remain positive about the underpinnings of U.S. growth and are less worried -- though not completely reassured -- about risks posed by global economic weakness and financial-market turbulence.
"The Fed remains upbeat on the outlook for consumer spending, but is in no rush to pull the trigger a second time," said Neil Dutta, head of U.S. economics at Renaissance Macro Research in New York. "This explains the continued close monitoring of inflation indicators, global economic and financial developments."

Without a press conference from Chair Janet Yellen at this meeting, investors were left parsing the statement. It contained a couple of meaningful signals.
The Fed appears to be looking through the weakness in first-quarter data and focusing on the strength of the American consumer and the domestic labor market. "A range of recent indicators, including strong job gains, points to additional strengthening of the labor market," according to the statement. Real household income has risen "at a solid rate" amid "high" consumer sentiment, which sets up better spending later.
Consumer Sentiment
"In commenting that consumer sentiment remains strong, there is an implication that household spending might do better going forward," though that isn't certain, said Jonathan Wright, an economics professor at Johns Hopkins University in Baltimore, who previously worked at the Fed.
Policy makers also skipped phrasing used to describe balance of risks to the outlook for a third time. In October, the FOMC used the phrases "nearly balanced" and "next meeting" to set up the December hike. In December, when they elected to raise rates, they upgraded the risk assessment to "balanced" before suspending their assessment entirely in January amid global market turmoil.
On Wednesday, officials said they continue to "closely monitor" both inflation indicators and global developments, meaning they still have reservations about both.
No Signal
"They could have been much more hawkish and flagged a June hike was likely, but they didn't," said Dean Maki, chief economist at Point72 Asset Management LP in Stamford, Connecticut. "They deliberately chose not to push market expectations around."
Federal funds futures markets showed about a one in five chance of a June hike, marking little change from before Wednesday's statement.
The third pause in the journey toward higher interest rates underscores changes in the way Fed officials are approaching policy now. Never have inflation-adjusted rates been negative in an expansion for so long during the past three decades.

Unlike the gradualism of former Chairman Alan Greenspan, who marched the real federal funds rate into positive territory from May to December in 2004, the current FOMC is pursuing a less programmatic policy.
"They are moving to what I call a much more data-dependent situation," Frederic Mishkin, a former Fed governor who is now a professor at Columbia University in New York, said in a Bloomberg Television interview. "The Fed should not be raising rates unless they are really confident inflation will rise to the two percent target."
Different Economy
Within the "data-dependent" strategy the FOMC uses to describe itself, there is an implicit test. The worst recession since the Great Depression seems to have changed the way the economy works. The FOMC wants to run growth slightly hot to let the new underlying structure reveal itself.
For now, there are still questions about where full employment might be, what kind of growth and stability is needed for businesses to invest more, and how global events feed into domestic spending and confidence.
So far, the probe has been rewarding. The unemployment rate of 5 percent is near the committee's estimate of full employment. Wages are moving slowly up, and more slack is being wrung out of the job market as the labor participation rate rises.
Economic Headwinds
Headwinds remain. Access to credit is tight and U.S. companies still lack the pricing power that can push up investment spending.
Some economists expect this probing policy will set the FOMC up for an overshoot of their 2 percent inflation target.
The Fed's preferred measure of inflation, based on the prices of of goods and services consumers buy, rose 1 percent in the year through February. The so-called "core" measure, which strips out food and energy prices, climbed 1.7 percent.
"There is no doubt that Fed officials think there has been some persistent effect from the crisis," said Michael Hanson, senior global economist at Bank of America Corp. in New York. As they keep monetary policy very stimulative, "there is a pretty good chance they won't engineer an overshoot of inflation but will tolerate one."
Charles Evans, the Chicago Fed president, said that is a risk he would take given the urgency of moving away from the zero boundary on interest rates.
"Appropriate policy should provide enough accommodation to generate a reasonable likelihood that inflation in the future could moderately exceed 2 percent," Evans said in a speech in Hong Kong earlier this month. 
He went on to explain that if the inflation target is "symmetric," as the committee declared in January, then policy makers shouldn't be constantly trying to keep it below 2 percent as if that number were a ceiling.
Before it's here, it's on the Bloomberg Terminal.
LEARN MORE