Tsipras Rebuffed as EU Adds Pressure to Break Greek Impasse
by and
Eurogroup canceled plans for an emergency April 28 meeting

Tusk says need to avoid renewed uncertainty for Greece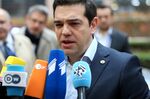 European Union President Donald Tusk rejected Greece's request for a leaders' meeting, saying euro-area finance ministers should convene in the next few days to resolve disagreements on the nation's bailout program.
"We have to avoid a situation of renewed uncertainty for Greece," Tusk, who chairs summits of EU and euro-area leaders, told reporters in Brussels on Wednesday. "I am convinced that there is still more work to be done by the ministers of finance."
QuickTake Greece's Financial Odyssey
Prime Minister Alexis Tsipras sought the meeting to confirm that terms of the stalled bailout review conformed with the nation's rescue program set out in July 2015, according to an official, who asked not to be identified in line with policy. It's now up to euro-area finance ministers to pave the way for the disbursement of emergency loans to Greece and start discussions about official sector debt re-profiling.
Greece is at loggerheads with its creditors over a demand that Athens legislate additional austerity measures equal to 2 percent of gross domestic product that would kick in if budget targets are missed. Tsipras and Tusk will hold a call on Thursday morning to review the situation, the Greek prime minister's office said in an e-mailed statement.
Tsipras's brinkmanship nearly drove Greece out of the currency bloc last July before he abandoned his anti-austerity campaign pledge and accepted creditor demands in exchange for a third bailout program. Less than a year later, with Greece at the forefront of a European refugee crisis and polls showing a surge in support for the pro-European opposition New Democracy party, Tsipras has less room to maneuver and may have to accept the new austerity requirements.
The Athens Stock Exchange fell 2.5 percent while the yield on the nation's two-year bonds jumped 98 basis points.
More than 1 million migrants have entered the EU since 2015, making this the worst refugee crisis since World War II and complicating aid negotiations with Athens. With Greece the main port of call for migrants and Germany the final destination of choice for most of them, Tsipras and German Chancellor Angela Merkel share similar domestic and international pressure, which may make a repeat of last year's bailout crisis less likely.
Tusk urged that an additional meeting of euro-area finance ministers be held in the next few days so that further aid can be disbursed to Greece. The Eurogroup, citing insufficient progress, canceled a planned April 28 meeting.
"When the conditions are met, the meeting will be convened," German Finance Minister Wolfgang Schaeuble told reporters in Berlin, referring to an extraordinary Eurogroup.
The latest assessment of Greece's aid terms is already six months behind schedule, raising renewed doubts about whether it will secure emergency loans soon enough to avert a default in July when bonds held by the European Central Bank come due.

The International Monetary Fund is insisting Greece legislate contingency measures in order to unlock aid, something the nation has said is unconstitutional. Greece has made a counter-proposal, saying it would create a permanent budget correction mechanism, to be activated in case of deviations from targets. Talks in Athens on Tuesday between the Greek government and officials from the IMF, the European Commission, the European Central Bank and the European Stability Mechanism failed to bridge differences.
"Obviously it always needs some kind of a high noon when it comes to Greece," German Deputy Finance Minister Jens Spahn said. "But I am quite sure we'll come to an agreement." 
Greece's creditors agree that the nation's budget should contain contingency measures, Eurogroup head Jeroen Dijsselbloem said.
"The optimists will say, we don't need it: so then it's easy to agree to something if you don't think have to do it anyway," Dijsselbloem said on the sidelines of a press conference in Paris. "The pessimists will say we need it because it may go off track. So I think both the optimists and the pessimists agreed that it's important and we should get it done."
Dijsselbloem, who is also finance minister of the Netherlands, downplayed objections to such measures, saying they are not uncommon.
"Many countries have this sort of contingency measures in their budget where they have fiscal brakes," he said. "It's more a technical issue. It's not a matter of principal. It's a matter of how we should design it."
Speaking after a meeting with French Finance Minister Michel Sapin, Dijsselbloem said he doesn't want to call a meeting of euro area finances ministers until negotiators have a strong basis for an agreement. "Next week, or ultimately the week after," if necessary, he said.
Before it's here, it's on the Bloomberg Terminal.
LEARN MORE