Durst Set for California Murder Trial After Sentencing
by and
He gets 85-month sentence on unrelated weapons charge

HBO series explored real estate heir's ties to three deaths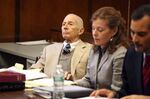 The enigmatic life of New York real estate heir Robert Durst is closer to being showcased in a California murder trial, following his sentencing on a weapons charge in Louisiana.
Durst will be tried for the 35-year-old murder of his friend Susan Berman. He was also a suspect in the 1982 disappearance of his wife Kathleen Durst and he was acquitted of murder in 2003, although he admitted to shooting and dismembering the body of a neighbor in Galveston, Texas. Durst claimed he acted in self defense.
Durst was sentenced in New Orleans on Wednesday to seven years and a month in prison after pleading guilty to possessing a firearm as a felon. U.S. District Judge Kurt Engelhardt recommended that the ailing Durst, 73, be housed at a low-security federal prison in San Pedro, California.
"It will not only address his health challenges but also his need to be in California for proceedings there," the judge said.
Berman's murder was recounted in a 2015 HBO series that explored Durst's life story. According to the documentary, "The Jinx: The Life and Deaths of Robert Durst," her slaying came months after New York prosecutors reopened an investigation into the disappearance of Durst's first wife.
Berman, a novelist and the daughter of a Las Vegas mobster, was Durst's confidante and spokeswoman after his wife vanished. Los Angeles prosecutors allege Durst killed Berman because she was a witness to a crime.
Not Guilty Claim
"I've been waiting to get to California for a year so I can state my not guilty plea," Durst said at the New Orleans hearing. "If there's anything you can do to speed up that process," he told the judge, "I'd truly, truly appreciate it. I'm not guilty of murdering Susan Berman."
Wearing a bright, orange jumpsuit and handcuffed, Durst spoke in a whisper from the stand. He appeared gaunt and pale.
With the plea agreement, Durst avoided financial crimes charges in New York, firearms charges in Texas. A Louisiana district attorney agreed to forgo prosecuting Durst on a local gun charge. Durst ended up with a longer term than the 12 to 18 months suggested by federal sentencing guidelines.
"We cleared the decks, at a cost," said Durst's lawyer Dick DeGuerin. He added it means Durst can get to California "and that's what this is all about."
Durst could be in California "within a couple of weeks, if not sooner," prosecutor Michael McMahon said. "He'll be out of here pretty expeditiously."
The Federal Bureau of Prisons has to formally accept the judge's recommendation for Durst to go to California.
Durst Arrest
The FBI arrested Durst in New Orleans on a Los Angeles murder warrant the day before HBO aired the final episode of "The Jinx." A search of his hotel room uncovered a loaded Smith and Wesson revolver, more than $40,000 in cash, five ounces of marijuana, as well as a latex mask with gray and white hair and documents that suggested he might have planned to leave the country.
In the final episode of "The Jinx," Durst was confronted with a letter he sent to Berman before her death. The handwriting on the envelope and the misspelling of "Beverly Hills" as "Beverley Hills" resembles that of a note sent to local police right after her murder, saying there was a "cadaver" at Berman's address. Durst denied he wrote the note to the police when asked about it by the documentary makers.
After the interview concludes and Durst excuses himself to go to the bathroom, he's heard muttering to himself, unaware that he's still being recorded, "What the hell did I do? Killed them all, of course."
Before it's here, it's on the Bloomberg Terminal.
LEARN MORE