Draghi Tells Germany Criticism May Slow Return to Higher Rates
by
ECB president says debate should be 'polite and constructive'

Also says U.K. would lose single-market access with Brexit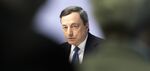 Mario Draghi hit back at German criticism of the European Central Bank's policies, saying the attacks may undermine efforts to restore the inflation needed for higher interest rates.
"People in Germany can rest assured that their ECB president is doing everything to restore inflation to the right level," he said in an interview with the tabloid Bild, the country's most-read newspaper. "Our policy is working, but we must be patient; investor confidence has not yet been fully restored."
Simmering German discontent toward the ECB's policies of low rates and bond purchases erupted this month when Finance Minister Wolfgang Schaeuble said Draghi was partly responsible for the rise of populist parties and was hurting retirement plans. While the two men apparently clinched a truce over dinner in Washington, criticism in the euro area's largest economy hasn't abated amid some calls for a German to succeed the Italian in 2019.
"What difference would it make if a non-Italian were now in office? None at all. He or she would pursue the same course as we do now," Draghi said. "One thing is clear: the ECB obeys the law, not the politicians. Or, as one of my predecessors put it, it is normal for politicians to comment on our actions. But it would be abnormal if we listened to them."
German Defense
Jens Weidmann, the president of Germany's Bundesbank, spoke earlier in Rome to defend the ECB's stance.
"It's clear that the low price pressures that we are facing warrant an expansionary monetary policy," he said in an interview with aa Repubblica. "This is completely undisputed in the Governing Council. What we discussed is the different instruments that we're using."
Draghi went further, saying that German criticism risks undermining confidence and slowing the impact of central-bank policies.
"Any perception that the ECB's independence is under attack can unsettle businesses and consumers," he said. "That might force the central bank to do more to achieve price stability."
In the interview, conducted in Bild's Berlin office on Monday, the ECB president re-affirmed the rationale for euro-area stimulus.
Brexit Vote
"Interest rates are low because growth is low and inflation is too low. Think about the alternative: if we raised rates now, it would be bad for the economy and we would unleash deflation, unemployment and recession," he said. "Besides, many savers benefit from low interest rates as they are also home-buyers, taxpayers, entrepreneurs and workers whose companies are benefiting."
Draghi touched upon two key political topics -- Greece's bailout and related austerity measures, and the U.K.'s June 23 referendum on its European Union membership.
"Greece's challenges have little to do with the euro. It would have to implement reforms in any case," he said, adding that it's up to member states to decide who stays in the currency bloc. On the U.K. vote, he said that "I cannot and do not wish to believe that the British would vote to leave, because we are stronger together. But if they do, it should be clear: they would lose the benefits of the single market."
Before it's here, it's on the Bloomberg Terminal.
LEARN MORE