business
Brazil's Stocks, Real Advance on Outlook for Economy Turnaround
By and
Focus shifts from political turmoil to new government measures

Itau, Bradesco and Petrobras contribute most to index's gain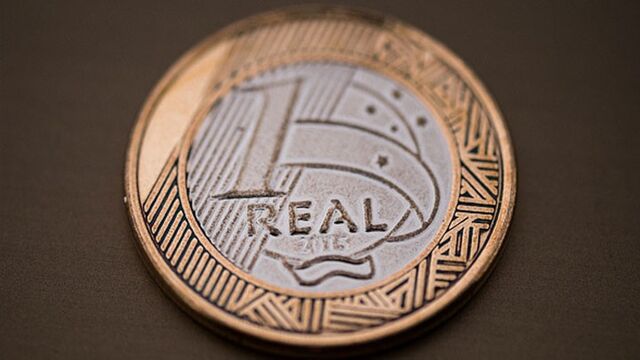 The Ibovespa rose the most among major equity benchmarks and the real advanced as investors anticipated a turnaround in the Brazilian economy while the Senate prepares to decide on proceeding with the impeachment of President Dilma Rousseff.
Lenders Itau Unibanco Holding SA and Banco Bradesco SA contributed the most to the Ibovespa's advance after Vice President Michel Temer told O Globo newspaper that former central bank chief Henrique Meirelles is his choice to be the new finance minister if Rousseff is impeached and he's tasked with forming a new cabinet. State-controlled oil producer Petroleo Brasileiro SA followed gains in crude prices.

The Ibovespa has surged 40 percent this year in dollar terms, trailing only Peru's benchmark among global equity indexes, and the real has appreciated the most among its most-traded counterparts as investors wagered that Rousseff will be ousted, ushering in a government more capable of lifting the country out of its worst recession in a century. As the impeachment process has advanced, traders are now focusing on the likely makeup of the next cabinet and specific plans to shore up the budget, tackle above-target inflation and revive growth. Meirelles is remembered for running the central bank at a time of faster growth and slower price increases.
"Short-term analysis has given way to a structural assessment of the prospects for the country," said Marcelo Mello, who helps oversee 19 billion reais ($5.4 billion) as chief executive officer of SulAmerica Investimentos in Sao Paulo. "Investors are betting that Temer will be able to gather a strong team that will be able to do the necessary reforms."
The Ibovespa advanced 2.6 percent to 54,477.78 Wednesday in Sao Paulo as all but eight of its 61 stocks rose. Valuations measured by share prices relative to estimated earnings climbed to the highest since May. Petrobras added 6 percent to reach its highest level since August. Itau rose 3.4 percent, and Bradesco advanced 3.5 percent.
The currency strengthened 0.1 percent to 3.5271 per dollar, extending this year's advance to 12 percent, as the central bank held off on selling reverse swaps that tend to weaken the currency. Beginning March 21, policy makers re-introduced a program created in 2005 to slow the real's appreciation and have since sold $34 billion of reverse swap contracts, which are the equivalent of buying dollars in the futures market.
"Meirelles is a good name, a name that markets will respond well to," said Mike Moran, the head of economic research for the Americas at Standard Chartered Plc, which gets more than half its revenue from emerging markets. "The absence of more reverse swaps suggests the central bank is comfortable with the real in a 3.4-3.6 range for now."
Brazilian assets also gained Wednesday after the Federal Reserve left its benchmark interest rate unchanged, benefiting countries that pay higher returns.
One-month implied volatility in the real dropped 0.8 percentage point to 18.5 percent, still the highest among the 16 most traded currencies. The cost of insuring Brazilian bonds in the credit-default swaps market for five years declined 10.6 basis points to 337.6 basis points.
Temer has agreed with members of Congress on measures to shore up the economy including pension reform, newspaper Folha de S.Paulo reported, without saying how it got the information. PSDB, the main party to oppose Rousseff, is also negotiating to be part of the new administration, newspaper Estado de S. Paulo reported.
During Rousseff's five years as the country's leader, the Ibovespa has plunged 63 percent in dollar terms, even after including this year's gains, and the real has depreciated 53 percent. The country lost its investment-grade credit rating last year as the federal deficit widened. Rousseff is accused of breaking the law by trying to fill a budget gap by delaying payments to state-run banks, allegations she has denied.
A special Senate committee is set to prepare a report by May 6 accepting or rejecting the charges against Rousseff. The full Senate may vote on that report as early as May 11.
Brazil's central bank will hold the benchmark Selic rate at 14.25 percent for the seventh consecutive meeting on Wednesday, according to all 50 economists surveyed by Bloomberg. Swap rates on the contract maturing in January 2017, a gauge of expectations for interest rates, fell 0.015 percentage point to 13.53 percent.
Before it's here, it's on the Bloomberg Terminal.
LEARN MORE