business
BOJ Decision-Day Guide: Markets Bear Down on Kuroda to Act
By and
BOJ Decision-Day Guide: Markets Bear Down on Kuroda to Act
By and
Mounting concern that stronger yen may hurt Japan's economy

Slim majority of economists forecast more stimulus Thursday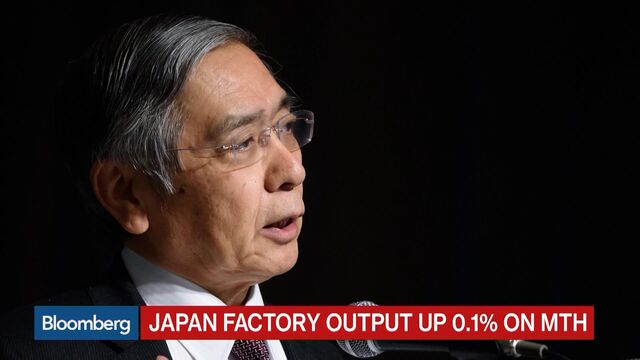 The Bank of Japan will conclude a two-day policy meeting Thursday in which the state of financial markets may play a greater role than at any previous gathering since Governor Haruhiko Kuroda began a campaign of unprecedented monetary stimulus in April 2013.
This will be "the most closely watched meeting in recent memory," Izumi Devalier, an economist at HSBC Holdings PLC, wrote in a report this week. "We believe the fundamental case for additional easing remains strong."
Since the last gathering in mid-March, a growing concern has been the yen's continued strengthening, which has cast a long shadow over the outlook for wage gains and investment spending. A weaker currency had been one of the biggest achievements of Prime Minister Shinzo Abe's reflation program –- leading to record corporate profits that were supposed to stoke domestic spending and bring sustained increases in inflation and salaries.
Should the BOJ choose to react by easing policy this week, that carries a risk as well: any move that has a limited impact on the yen could hurt the central bank's perceived ability to sway markets -- meaning that if the bank eases further later, it might have to do something so much bigger. 
A policy decision is likely between noon and 1 p.m. in Tokyo, and will be accompanied by the BOJ's latest estimates for growth and inflation. Kuroda holds a press briefing about 3:30 p.m. local time.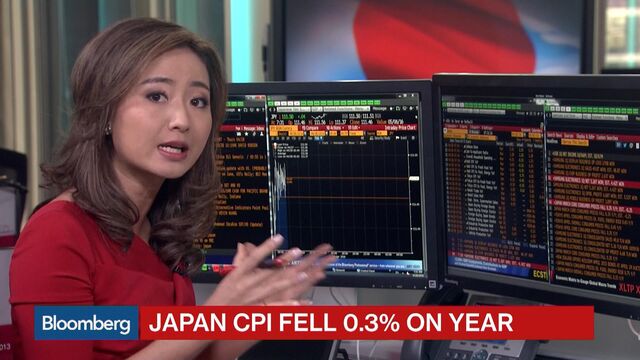 Dangers in Acting
Another danger is that reacting now could change the image of Kuroda's BOJ, which has established a pattern of executing a big policy step and then taking time to see the effects. Months after unveiling Kuroda's stimulus program in April 2013, Japanese stocks were flirting with bear-market territory amid some disappointment with Abe's structural reform pledges. Yet Kuroda didn't take another policy step for more than a year, giving time for observers to recognize the magnitude of the BOJ's new framework.
A move at this meeting could look like a reaction to market developments -- raising expectations and the potential for disappointment -- any time there were similar moves in the yen and stocks. That's not where Kuroda wanted to be when he started his stimulus program three years ago.
Easing at this meeting is a close call: a slight majority of economists surveyed by Bloomberg see some action. An even tougher call is the way in which the BOJ would add to stimulus, as it has a newly enlarged array of tools.
Suite of Options
The biggest impact would be an across-the-board action that involved an enlarged target for increasing the monetary base, done through government-bond purchases and expanded buying of risk assets such as exchange-traded funds, and a cut in the negative rate on a portion of the cash that banks park at the BOJ.
Another possibility is introducing a new negative rate on funds the BOJ offers banks in a pre-Kuroda era loan-support program.
The BOJ's decision will come just hours after the outcome of a U.S. Federal Reserve meeting and a slew of Japanese economic data -- including on consumer prices, industrial production and retail sales -- to be released Thursday morning.
Fifty-six percent of the economists surveyed by Bloomberg predict more stimulus Thursday. Of the 41 respondents, 19 predict the BOJ will announce an increase in ETF purchases, eight expect an acceleration of bond purchases and eight project a deeper cut in the negative rate on excess reserves. Some 93 percent of economists forecast further easing by the end of July.
Key Indicators
Inflation is hovering around zero and price expectations aren't rising. Corporate Japan is winding back its estimates for price growth as confidence in the economy wanes. The preliminary results of spring wage talks, which Kuroda said he would be watching, have shown the pace of increases to be slower than last year.
"Threats to reaching the price target have increased and this is exactly the type of situation in which the BOJ has pledged to act," said Hiroshi Miyazaki, a senior economist at Mitsubishi UFJ Morgan Stanley in Tokyo.
The BOJ also will update its projections for prices and economic growth. Downgrades are widely expected given the yen's appreciation of about 8 percent versus the dollar this year, plus stagnant consumer spending and little support from economies in China and the U.S.
Price Outlook
The most closely watched of these numbers is the price outlook for the year starting in April 2017, given that the BOJ currently expects inflation will hit its 2 percent target around six months through September of that year. The BOJ also will release its projection for fiscal 2018 for the first time.
A delay in reaching the 2 percent price target could be a source of disappointment if Kuroda keeps monetary policy unchanged. Unlike in the past, he can't blame a drop in oil prices as they're moving within a range of the BOJ's assumptions for the price outlook.