This CEO's $148 Million in Pay May Rank Him No. 1 for 2015
by
Patrick Soon-Shiong's award is highest reported so far

His net worth is $9.8 billion, according to Bloomberg ranking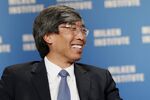 NantKwest Inc., a cancer-research firm that went public last year, gave Chief Executive Officer Patrick Soon-Shiong a $147.6 million pay package for 2015, the highest reported by any company so far.
Soon-Shiong's compensation exceeds that granted Google Inc. CEO Sundar Pichai, who received $100.5 million last year to run the search-engine unit of parent Alphabet Inc.
Soon-Shiong, a co-owner of the Los Angeles Lakers basketball team, received stock options valued at $132.2 million and $15 million in restricted stock, according to a proxy statement filed Wednesday. The options were granted before the company's initial public offering in July, most having a strike price of about $2. The shares rose 39 percent to $34.64 in their first day of trading.
Most of Soon-Shiong's compensation is tied to reaching "strategic milestones" and to warrants, Mike Sitrick, a spokesman for the company, said in an e-mail.

A medical doctor and entrepreneur, Soon-Shiong, 63, became a billionaire after selling drug companies APP Pharmaceuticals Inc. in 2008 and Abraxis BioScience Inc. in 2010. Cambridge Equities LP, an investment partnership he controls, bought 31 percent of NantKwest less than a year before its IPO and is the company's majority shareholder.
Killer Cells
Soon-Shiong also received a $386,301 bonus and $1 in salary. His net worth is $9.8 billion, according to the Bloomberg Billionaires Index.
NantKwest focuses on using the human immune system, particularly cells known as natural killer cells, to fight cancer and other diseases, according to a company filing. The Cardiff-by-the-Sea, California-based firm first sold shares to the public in July, and is listed on the Nasdaq Stock Exchange under the symbol NK, for natural killer. The stock has slumped 62 percent since then amid a broader selloff among biotechnology firms. The Nasdaq Biotechnology Index dropped 25 percent in the same period.
A class action lawsuit was filed against NantKwest in March, claiming the company mislead investors by failing to disclose errors related to stock-based awards for Soon-Shiong. The suit came two weeks after NantKwest announced it would restate its interim financial reports for the second and third quarter of 2015, partly because of an adjustment of the vesting conditions for the CEO's equity awards, according to a filing. NantKwest "intends to vigorously defend these proceedings," the firm said in its annual report.
Before it's here, it's on the Bloomberg Terminal.
LEARN MORE