Banco Santander Sees Further Pressure on Spanish Lending Margins
By
The lender boots its capital ratio in the first quarter

Profit lower on weaker pound, Latin American currencies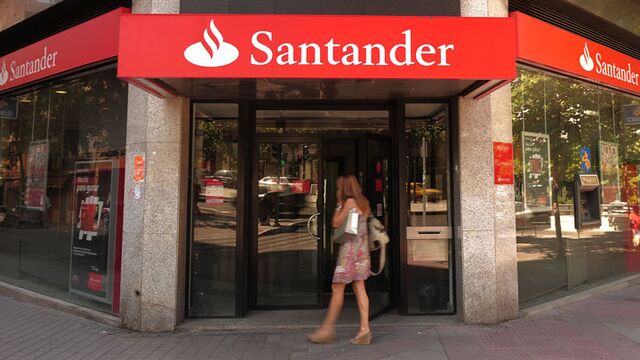 Banco Santander SA expects lending margins to continue shrinking Spain, hurt by negative interest and stalling lending growth.
"Looking forward, we continue to see pressure on net interest income, but good trends in terms of fee income, costs and asset quality," Chief Financial Officer Jose Antonio Garcia Cantera said on a conference call with analysts.
Santander on Wednesday reported a 5 percent decline in net income, beating analyst estimates. In Spain, it's home market and third-biggest source of revenue, earnings fell 10 percent in the first quarter with net interest income -- the difference between what banks charge for loans and pay for funding -- declining 14 percent.
The European Central Bank's efforts to simulate economic growth by keeping interest rates low is "the necessary policy for the current economic environment we are living in, even though it's not good for us" Chief Executive Officer Jose Antonio Alvarez said Wednesday. He said he expects rates to remain low in 2016 and 2017.
Santander Chairman Ana Botin, 55, is closing branches and steering customers into digital banking to cut costs as subzero interest rates undercut profitability. Spain's largest lender plans to eliminate as many as 1,660 jobs in the country this year and has put acquisitions on hold to concentrate on boosting revenue from existing businesses.
"Overall. a good set of results that beat expectations on a solid performance of costs and provisions and which showed promising trends in core revenues in Spain and Portugal," Fabio Mostacci, an analyst at Mirabaud Securities with a buy recommendation on the shares, said in a note to clients.
Santander rose as much as 3.5 percent in Madrid trading and was up 0.7 percent at 4.56 euros at 3:30 p.m. in Madrid, the highest since Dec. 31. Santander was among the best performers in the benchmark STOXX Europe 600 Banks Price Index, which tracks 47 of the region's lenders.

Income was hurt by a strengthening euro against the pound as well as currencies in Argentina, Chile, Brazil and Mexico. Excluding those effects, profit increased 8 percent, the bank said. Santander expects the pound to recover after the June referendum on whether Britain will leave or stay in the European Union, Alvarez said.
Common equity Tier 1, a measure of financial strength, rose to 10.3 percent from 10.1 percent at the end of 2015. Botin has pledged to increase the ratio to more than 11 percent by the end of 2018.
Profit from the U.K. unit, the biggest contributor to Santander's earnings, declined 4 percent, while dropping 25 percent at the Brazilian business when calculated in euros. It was flat in local currency terms.