technology
Apple Stumbles in China as Local Phone Makers Head Up-Market
David Ramli
Greater China sales plunge by 26% as earnings disappoint

Huawei Technologies winning market share with premium push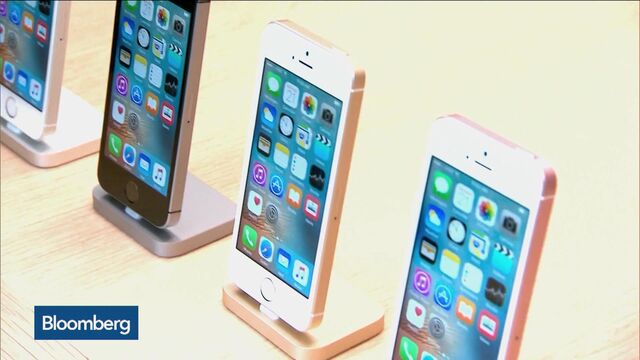 Apple Inc.'s slumping China sales reflect more than just a slowing economy and stalling market for smartphones. It's also a sign that local vendors are finally producing high-end devices that can compete with the iPhone.
With the next iteration of the iPhone still months away and last year's 6s failing to stand out as a major upgrade, Chinese consumers are less willing to pay a premium for an Apple product, according to Counterpoint Research. That is bad news for a company that has been counting on growth in the world's largest smartphone market.
Apple sales for Greater China, which includes Hong Kong and Taiwan, plunged 26 percent in the March quarter and market share shrank as local vendors won customers with smartphones sporting high-end parts and priced hundreds of dollars cheaper. Huawei Technologies Co. and Xiaomi Corp. are pushing up-market and targeting more affluent consumers with larger displays while the Cupertino, California-based company's major mobile release this year was the iPhone SE with a four-inch screen.
"Almost 80 percent of the phones shipped now are 5-inch and above," said Neil Shah, research director at Counterpoint. "Chinese brands such as Huawei, Oppo and Vivo are able to attract Chinese consumers with beautiful design and advanced features."
Apple's share of the Chinese market dropped to 12 percent in the March quarter from 18 percent a year earlier, Counterpoint said.
Tim Cook, Apple's chief executive officer, singled out mainland China as a market "that I am personally very focused on," he said during a call with analysts. Cook is pressing ahead with Chinese expansion after opening seven new stores in the latest quarter and planning another five in the current period.
Shipments of the iPhone fell to 13 million units the first quarter, down from 16 million a year earlier, according to preliminary data from IDC China research manager Di Jin. In contrast, Huawei smartphone shipments rose by 50 percent to over 16 million units during the same period.
"Local brands like Oppo and Vivo are really strong brands and have done a good job in their channel expansion," she said, adding that younger customers now looked favorably on local smartphones. "They've used a lot of marketing campaigns and advertising online."
Before it's here, it's on the Bloomberg Terminal.
LEARN MORE