71-Year-Old Money Manager Told to Spend 20 Years Behind Bars
by
Stephen Walsh argued for prison term of no more than two years

Defense lawyer says sentence ensures Walsh will die in jail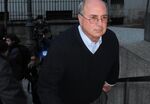 A federal appeals court upheld the 20-year prison term for former WG Trading Co. money manager Stephen Walsh, rejecting a legal argument that would have spared the 71-year-old from likely dying in prison.
Walsh, who pleaded guilty to securities fraud and received the maximum sentence for swindling investors out of $554 million over 13 years, sought a term of no more than two years at his 2014 sentencing. Anything longer would doom him to dying behind bars, his lawyer said at the time. The attorney blamed Walsh's behavior on a lifelong battle with alcoholism that caused him to black out several times each month.
In the appeal decided Tuesday, his attorney, Sarita Kedia, argued that the lower court failed to sentence Walsh in open court, a claim shot down by a three-judge appeals panel in Manhattan. In his bid for a shorter term, his lawyer in 2014 said 99.9 percent of all the lost principal would be returned to former clients, and that most of the stolen money came from large institutional investors rather than individuals.
"Walsh was, in fact, sentenced in open court," the appeals court said in a two-page order. A written sentence dated the following month was identical, the appeals court said.
Connecticut Prison
Walsh, of Sands Point, New York, is imprisoned at the low-security Federal Correctional Institution in Danbury, Connecticut. Kedia didn't immediately return a phone call seeking comment on the ruling.
Walsh was first charged in 2009 with Paul Greenwood, WG's former general partner. The two men, former minority owners of the New York Islanders hockey team, used their commodities-trading and investment-advisory firm to steal from institutional investors, including university foundations and charities.
They used the money to finance lavish lifestyles, the U.S. said, including buying horse farms, cars and a collection of stuffed animals. They also used the money to speculate in real estate, make a $1 million loan to a hedge fund and sink almost $200 million into an apparel business that went bankrupt. Walsh also used the stolen money to finance businesses started by his children and to pay millions of dollars to his ex-wife, prosecutors say, while Greenwood used it for construction on a home in North Salem, New York.
Futures Association
The scheme began to unravel shortly after an examination by the National Futures Association, court records show. Walsh and Greenwood had "panicked" conversations about the looming discovery of their off-book activities and bogus promissory notes that helped keep it under wraps, the U.S. said.
Walsh waited five years to plead guilty, doing so in April 2014 and agreeing to forfeit more than $50 million. Greenwood, who also pleaded guilty, was sentenced to 10 years.
At his 2014 sentencing, U.S. District Judge Miriam Goldman Cedarbaum said the requested term of no more than two years doesn't take into account Walsh's theft from clients to buy "frivolous things." His lawyer at the time said Walsh had played a "lesser" role in the scheme and that he "had not prepared Walsh for the possibility of a 20-year sentence," according to a legal brief in the appeal.
The judge then gave Walsh the option to withdraw his plea. Walsh decided not to do so after the government said it wouldn't offer him a more favorable agreement. Under federal sentencing guidelines, Walsh faced a maximum 30-year prison sentence.
Greenwood pleaded guilty in 2010 and agreed to testify against Walsh. Mark Bloom, a fund manager who stole more than $20 million from clients and then sought leniency by helping prosecutors build fraud cases against his ex-colleagues, was sentenced to three years in prison.
The lower-court case is U.S. v. Walsh, 09-cr-00722, U.S. District Court, Southern District of New York (Manhattan).
(An earlier version of this story correct the name of the appeals court lawyer.)
(
Updates with federal sentencing guidelines in 11th paragraph.
)
Before it's here, it's on the Bloomberg Terminal.
LEARN MORE