T-Mobile Slips Even After Improved Outlook for Subscriber Growth
by
Shares down 2.4% after climbing 6.6% over past 10 days

Carrier added 1 million monthly users in the first quarter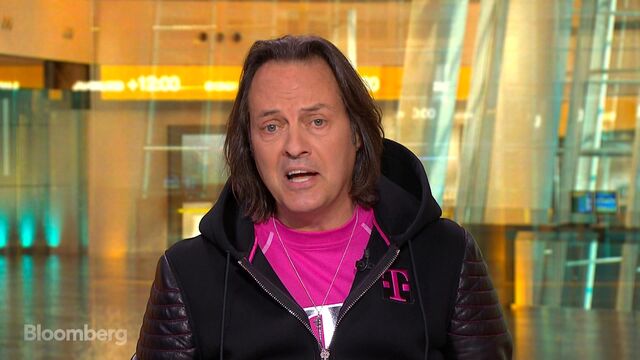 T-Mobile US Inc. raised its forecast for subscriber growth after adding more than 1 million monthly users for the seventh straight quarter, though the outlook wasn't positive enough for investors. 
The third-largest wireless carrier expects to sign up 3.2 million to 3.6 million new subscribers this year, according to a statement Tuesday. While that was up from a February prediction of as many as 3.4 million, it still trails the 3.6-million average of 15 estimates compiled by Bloomberg.
The shares fell 4.5 percent to $39.33 at the close in New York, their biggest drop in two months. The stock had climbed over the past 10 trading days on optimism about the results, as the company reported earnings earlier than usual. First-quarter adjusted profit beat estimates, and the carrier raised its earnings forecast.
Chief Executive Officer John Legere has used social-media marketing and free video-streaming promotions like Binge On to lure subscribers from rivals Verizon Communications Inc., AT&T Inc. and Sprint Corp. without hurting the bottom line in a price war.

First-quarter earnings were 56 cents a share, helped by an after-tax impact of 46 cents from a spectrum sale. That compares with the 10-cent average of analysts' estimates. Adjusted earnings before interest, taxes, depreciation and amortization almost doubled to $2.7 billion, topping the $2.1 billion average estimate. Sales of $8.6 billion compared with a $8.43 billion projection.
First-quarter net income was $479 million. Analysts predicted $97.5 million on average.
Adjusted Ebitda margin expanded to 32 percent from 24 percent a year earlier. Six analysts surveyed by Bloomberg projected 32.74 percent on average.
Full-year adjusted Ebitda will be $9.7 billion to $10.2 billion, T-Mobile said. Previously the company had projected Ebitda on that basis of $9.1 billion to $9.7 billion.
Before it's here, it's on the Bloomberg Terminal.
LEARN MORE