Swedbank CEO Targets Biggest Clients to Share Negative Rate Pain
by and
Net interest income falls as negative rates continue to hurt

CFO says Swedbank has no excess capital amid Basel fallout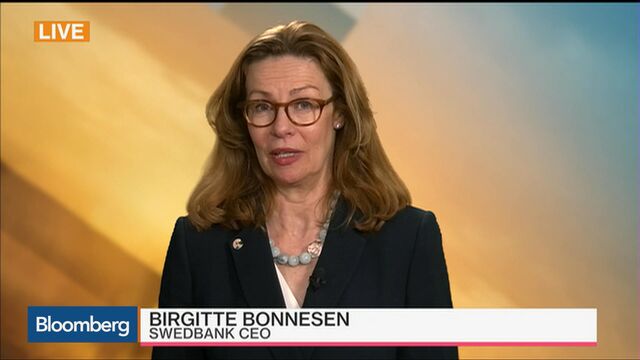 The new chief executive officer of Swedbank AB signaled that institutional clients will increasingly be asked to share the burden of negative interest rates.
Birgitte Bonnesen, who took over from Michael Wolf amid insider trading charges of which he was later cleared, said Sweden's biggest mortgage bank is leaving retail customers "out of the equation," in an interview with Bloomberg Television's Francine Lacqua on Tuesday. But on the institutional side, management is "moving closer into that situation and we're actually applying negative rates to some of these contracts," she said.
After opening about 1 percent lower, Swedbank shares traded up 2.1 percent at 172.50 kronor as of 11:32 a.m. in Stockholm.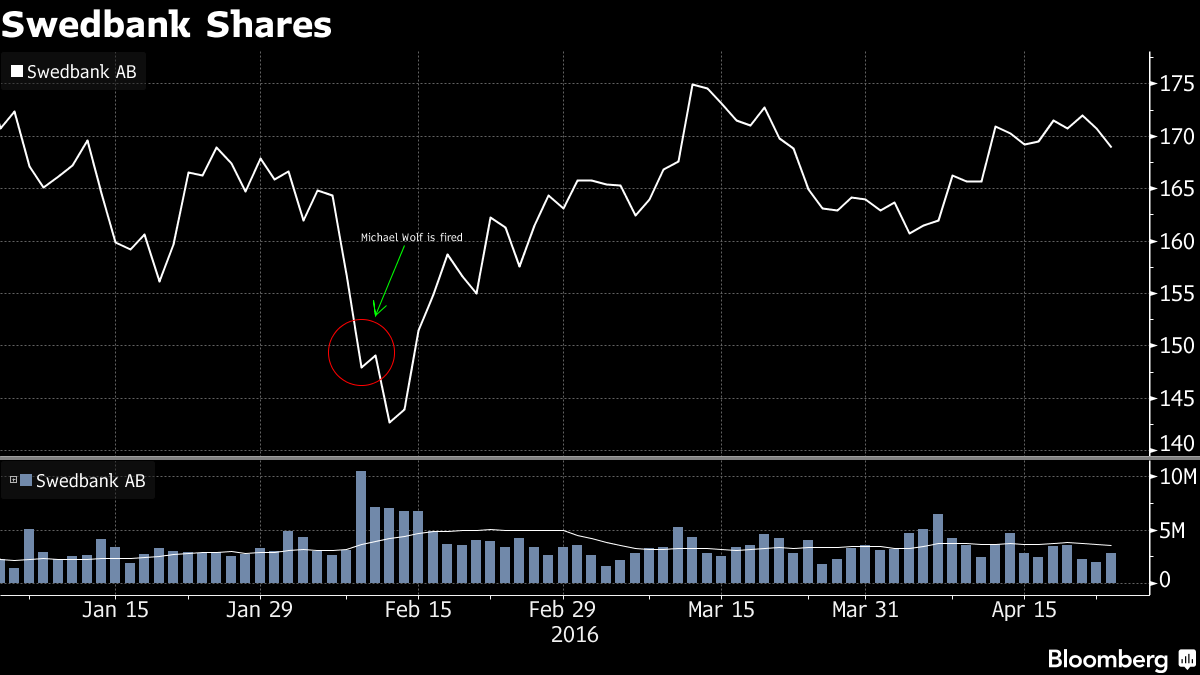 Nordic banks are more exposed than most to the fallout of negative rates as the central banks of both Denmark and Sweden enforce the policy. Finland, a euro-zone member, takes the European Central Bank's negative rate. Bonnesen said Swedbank was able to counter the tough rate environment to an extent by raising mortgage lending volumes, with continued cost cuts also helping protect profits.
Chief Financial Officer Goeran Bronner said the bank is seeing "good volume growth" and wider mortgage margins, indicating something of a "tailwind" for net interest income, he said.
But the climate for banking remains harsh. Profit at Swedbank stagnated last quarter, as net income reached 4.3 billion kronor ($529 million), virtually unchanged from the same period a year earlier, the Stockholm-based bank said. That beat analyst estimates, after loan losses were considerably smaller than expected. Net interest income fell 2 percent to 5.6 billion kronor while total income was down 3 percent.
Bonnesen will need to prove to shareholders that Swedbank has put its management challenges behind it as the lender tries to generate revenue growth. The bank's chairman wasn't re-elected last month after playing a key role in removing Wolf.
(Click here for more on former CEO's dismissal and the chairman's departure.)
Despite the inhospitable climate, Bonnesen said Swedbank will target a 15 percent return on equity, a level she said was appropriate "for a bank like ours, with high profitability, low risk and also cost-efficiency. I think being a big retail bank, this is what we should strive for, we should have high ambitions."
Swedbank's 75 percent dividend payout-ratio target is also "what we strive toward," she said. "This is a board decision, and these are where the financial targets are for the moment."
The bank has a buffer of 250 basis points on its common equity Tier 1 capital requirement, a level Bronner characterized as "very comfortable." Still, Swedbank has no excess capital at this point and the impact of new Basel rules still needs to be reviewed, he said.
Before it's here, it's on the Bloomberg Terminal.
LEARN MORE