Standard Chartered CEO Predicts Looming Revenue Challenge
by
Bill Winters sees `episodes of real risk aversion' continuing

Bank was run with `looseness' before he joined, he says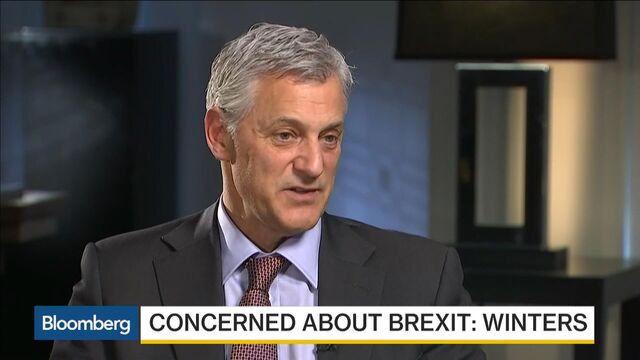 Standard Chartered Plc Chief Executive Officer Bill Winters expects erratic swings in global markets to continue for at least the rest of this year, complicating his efforts to reinvigorate earnings and restore the Asia-focused lender's dividend.
Reviving "depressed" revenue in the face of a sluggish economy and a slump in commodity prices is "the big challenge," Winters said in a Bloomberg Television interview with Francine Lacqua, eight months into his tenure. The bank could resume dividends this year if the situation improves. But first, he's waiting to see how the firm performs as emerging markets face headwinds, potentially rattling investors anew.
"I am expecting very high volatility for the rest of this year and probably into next year," said Winters, 54. "It's too early to call the risk-off theme. We could have episodes of real risk aversion."
Standard Chartered jumped 9.8 percent Tuesday after saying loan impairments declined and capital levels improved during the first quarter. Winters, hired in June with a mandate to turn around the struggling lender, has picked a new management team, bolstered risk controls, sold 19 businesses and identified $100 billion of risky assets he wants to restructure or exit.

"I am hoping we can grow income over the course of this year," the CEO said. Historically, employees prioritized "growing income at the top line and were not so focused on returns. We have shifted the focus to returns, and there is always this risk in that transition you lose the focus on growth. I think we've got the balance right. We need to resume growth with our clients."
Winters has sought to shrink the lender's balance sheet after years of unchecked growth, cutting assets 12 percent last year. The CEO said he discovered a "looseness" to the way the bank was managed when he joined, developed over years of good performance.
Unrealistic Shareholders
Shareholders have been "quite supportive" of his efforts, he said. Still, he added, they also play a role in encouraging excessive risk-taking when they set unrealistic growth targets.
"I say, 'You're the one that bought the stock at 14 pounds, what were you doing then?'" Winters said. "'I can tell you what you were doing then: You were encouraging management to go faster, to grow more, to book more loans, to get bigger. You, Madam or Mr. Shareholder, you were encouraging the bank to do the things that ultimately were its partial undoing.' Shareholders don't appreciate that."
The stock has fallen more than two-thirds from its level of 1,856 pence in 2010.
"There certainly was a period before the current financial crisis where certain shareholders did encourage more aggressive lending," said Hugh Young, Asia managing director of Aberdeen Asset Management Plc, without being more specific. The fund manager is Standard Chartered's second-biggest shareholder, with about 7 percent.
Winters "hasn't said the same things to us, as the last thing we've ever encouraged in banks is excessive risk taking."
Paul Ewing-Chow, a spokesman for Temasek Holdings Pte, the bank's biggest shareholder, declined to comment. The Singapore state-owned investment company became Standard Chartered's largest investor a decade ago and holds about 16 percent of the stock, according to data compiled by Bloomberg.
'Rubber Band'
In the wide-ranging interview, Winters, the former head of JPMorgan Chase & Co.'s investment bank said oil prices will probably stabilize around current levels or move higher. The biggest global structural risk, Winters said, is that central banks' extraordinary measures to stimulate the economy will build up imbalances.
That "does feel a little bit like a rubber band being stretched to the risk of snapping," he said.
While pretax profit fell 64 percent and revenue dropped 24 percent in the quarter, the shares erased their loss for the year. That placed Standard Chartered into a group of only five major European banks with a positive return in 2016.
"The earnings were poor and the profitability is poor," Winters said. "The market took our earnings as something of an encouraging sign because I believe they understand what our clients have always known, which is that there's a ton of business for us to do and we're well positioned to do it."
Before it's here, it's on the Bloomberg Terminal.
LEARN MORE