Business
Spain Heading for Repeat Vote After Last-Minute Effort Fails
By and
Spain Heading for Repeat Vote After Last-Minute Effort Fails
By and
Socialist leader says he doesn't have support to govern

Voters may go to the polls in June after six-month impasse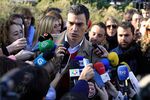 Spain is heading for a second general election in six months after party leaders gave up on efforts to break a political impasse with a May 2 deadline looming.
Socialist party chief Pedro Sanchez, the only candidate with a realistic chance of forming a majority, said he won't be able to muster the votes required to govern, and accused anti-austerity leader Pablo Iglesias of pursuing a duplicitous strategy during negotiations.
Iglesias's Podemos party and pro-market group Ciudadanos have been pushing for a Socialist-led government but neither group has enough support to go at it alone and their policy differences made a multi-party alliance impossible. Sanchez said Tuesday that Podemos was aiming to score political points rather than find common ground.
"Iglesias never wanted to go into a deal with us, he never wanted a socialist prime minister," Sanchez said after meeting with King Felipe in Madrid. "We are heading for elections."
Acting Prime Minister Mariano Rajoy, who won the most votes in December but has no allies in parliament, was meeting with the king as Sanchez spoke.

A last-minute bid to forge a governing majority failed when Sanchez's ally, Ciudadanos leader Albert Rivera, rejected a proposal from a regional party associated with Podemos. The Socialists had said Tuesday morning they could consider the proposal and it was compatible with the pact they signed with Ciudadanos in February.
"Three sheets of paper presented on the very last day to govern this nation for
the next four years between six parties -- it's not even worth considering," Rivera said at a press conference in Madrid after his own talks with the king.
Iglesias appeared to be wrong-footed by the proposal from his regional allies. He said at a press conference that he knew nothing about it until Tuesday morning because he'd been asleep when the document was finalized at midnight Monday, though he did send a tweet half an hour later.
Throughout the negotiations, Iglesias attacked Sanchez, portraying him as a weak leader taking orders from senior party figures after a historic election defeat. Iglesias voted against Sanchez's candidacy twice in March and taunted the Socialist lawmakers with references to the anti-terror paramilitary squads that operated in the Basque Country while the Socialists were in power in the 1980s.
Iglesias is negotiating an alliance with the United Left for the next election, which could allow Podemos to overtake the Socialists to become the second-biggest party. The two groups won 6.1 million votes between them in December compared with 5.5 million for the Socialists. Rajoy's People's Party had 7.2 million votes.
"Giving the people another say is better that exploring a technocrat government that would leave the democratic mechanism hollowed out," said Lluis Orriols, a political scientist at Madrid's Carlos III University.
— With assistance by Charles Penty
(
Updates with details of last-minute talks from seventh paragraph.
)