Soccer's Biggest Underdog Made Plenty of Fans, Not Enough Shirts
by
Leicester City is facing a $1.5 million jersey shortage

Foxes, facing 5,000-1 odds, went from league bottom to top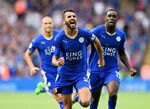 In its improbable run to the top of the English Premier League, the Leicester City soccer team has captured fans across the globe. If those converts want a team jersey, though, they're out of luck.
Unprepared for their sudden popularity, the Foxes have run out of kits.

The official club shop at King Power Stadium in Leicester sold the last of its stock months ago -- even the mannequins have been stripped. The same is true in Thailand, the home of the team's owners, where support for Leicester, a team that has never won a top flight title in its 132-year existence, has grown with each victory. On the team's website, the only available apparel from this season's uniforms is a pair of blue socks.
A team spokesman said this season's "replica kit sales have broken all records, with unprecedented demand leading to limited availability heading into the final stages of the season." Puma SE, the team's jersey maker, declined to comment.
Andy Anson, the chief executive of Kitbag Ltd., which runs online stores of several of the world's top soccer teams, including Manchester United and Real Madrid, said Leicester may be leaving as much as 1 million pounds ($1.5 million) on the table.
Teams typically buy a year's worth of merchandise before the season starts, Anson said. Leicester, which barely hung on to its Premier League standing last season, didn't anticipate becoming a global Cinderella.
"They would have bought a number equating to them coming near the bottom again," Anson said. "Nobody could have expected this."
Compared with TV money, merchandise sales make up only a small fraction of revenue for the Premier League's smaller clubs. Leicester earned 104 million pounds last season, of which 2.4 million pounds came from apparel sales, according to team records. Jersey sales, which constitute the biggest element of retail for most teams, wasn't broken out.
Even independent retailers are out of the must-have jerseys, which cost around 45 pounds. JC Sports, a Leicester retailer known for its collection of home team apparel, is out of every jersey except for an infant version of the team's black alternate uniform, said shop owner Ashok Chatwani. Until stock ran out about five weeks ago, the store had sold about 3,000 adult shirts -- 20 percent more than it sold in all of last season.

"Our turnover has trebled or is maybe four times more than last year," he said. "We will definitely invest in a bigger shop."
Orders haven't been limited to local residents. The shop has shipped shirts -- the most-popular bear the names of star striker Jamie Vardy and Riyad Mahrez, the Algerian forward who was named English soccer's player of the year yesterday -- as far away as China, Australia, Malaysia, Indonesia and Thailand.
"Everybody supports them now," said Chatwani.
Even the Premier League's top brass has struggled to get its hands on a jersey. Ahead of a league event this week, Leicester's kit was the last of the 20 uniforms to be found for display.
Next season's jersey is expected to be released on May 7.
Before it's here, it's on the Bloomberg Terminal.
LEARN MORE