Saudi Arabia Plans Defense Holding Company Under Wealth Fund
by , , and
PIF planning board to oversee investments in defense companies

Board comprises nine members, including international experts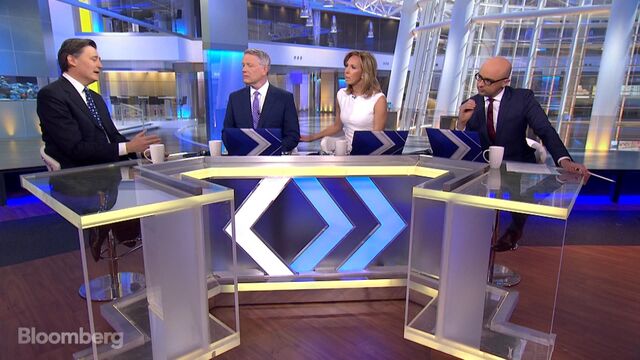 Saudi Arabia's Public Investment Fund will help to drive the kingdom's defense industry as part of a shakeup of the economy announced by Deputy Crown Prince Mohammed bin Salman, according to draft plans seen by Bloomberg.
The PIF is creating a nine-member board including Ahmed Al-Khateeb, former chief executive officer of Jadwa Investment Co., and Saudi Aramco Chairman Khaled Al-Faleh to oversee a holding company that will invest in defense companies, according to the document. The board, which will be chaired by Al-Khateeb, will more generally be charged with helping to develop the nation's defense industry, according to the proposals.
The plans form part of Bin Salman's "Saudi Vision 2030," a blueprint seeking to reduce the country's reliance on revenue from crude exports that's the centerpiece of the biggest economic shakeup since the founding of Saudi Arabia in 1932. Three international experts yet to be named will also sit on the new board.
The PIF declined to comment when contacted by Bloomberg.
Military Budget
Saudi Arabia has one of the biggest military budgets in the world, and was the leading Middle East spender on arms in 2015 at $46 billion, according to IHS Jane. It allocated 213 billion riyals ($57 billion) in its 2016 budget for defense spending.
The 30-year-old prince has amassed unprecedented powers since his father King Salman ascended to the throne last year. He says he's determined to use them to end the Saudi "addiction" to oil and build a modern private sector. Those are longstanding Saudi goals, yet in 2015 the kingdom was still getting 70 percent of its revenue from crude, and most Saudis who had jobs were working for the government -- making some analysts skeptical of the sweeping plans.
Prince Mohammed and his team "will be coming up against significant vested interests within the royal family, the business elite and the religious establishment," Jason Tuvey of Capital Economics wrote in an e-mailed report.
Defense Spending
The prince, in an interview with Saudi-owned Al Arabiya television, said the kingdom will seek to meet more of its military needs domestically. He also plans to cut wasteful spending.
"When I enter a Saudi military base, the floor is tiled with marble, the walls are decorated and the finishing is five stars. I enter a base in the U.S., you can see the pipes in the ceiling, the floor is bare, no marble and no carpets. It's made of cement. Practical," Prince Mohammed said before details of the "Vision 2030" plan were announced. "We have a problem with military spending."
The kingdom's Vision 2030 seeks to "to localize over 50 percent of military equipment spending," according to the 84-page glossy document released to reporters on Monday in Riyadh. We have already begun developing less complex industries such as those providing spare parts, armored vehicles and basic ammunition" and will later expand to include "higher value and more complex equipment such as military aircraft."
Longer Term
Byron Callan, a defense analyst with Capital Alpha Partners LLC in Washington, said the new initiative "could result in more maintenance and support done by Saudi enterprises, though that could mean U.S., European teaming -- which is already the case."
That means companies including BAE Systems Plc., Boeing Co., Lockheed Martin Corp. and Raytheon Co. are "all possibly impacted," Callan said. Longer term, the question will be how far the the Saudis want "to reach in terms of major weapons systems," he added.
Saudi Arabia's military has been tested most recently in Yemen, where it's leading a coalition of Muslim nations against the Shiite Houthi rebels the kingdom accuses of being backed by its chief regional rival, Iran. While Saudi's allies and coalition forces drove the Houthis out of the southern areas they had seized, the rebels still control the capital and territories in the north.
Difficult Task
"Building a military industry in Saudi Arabia would be difficult given its limited technology and skills base," said Paul Sullivan, a professor of security studies at Georgetown University in Washington. "This could take decades. A functioning and sustainable military industry takes a lot of investment, education, training and proper policy making."
More broadly, Saudi Arabia wants to generate 35 percent of the economy from small and medium enterprises, up from 20 percent, according to the plan. It also aims to reduce unemployment among Saudis to 7 percent from 11.6 percent.
James Smith, a former U.S. ambassador to Saudi Arabia, said the biggest hurdle with that could be creating a culture where people aren't afraid to fail, a trait he said has helped make California's Silicon Valley a center of innovation.
Private Sector
"The challenge in developing a private sector economy is figuring out how to empower a highly educated class of young people to become entrepreneurs," Smith said in an interview on Bloomberg Television. "I don't think I can overstate the challenges associated with it."
While an expanded Saudi defense industry may provide competition to U.S. contractors, the Obama administration has urged Saudi Arabia and other Gulf Cooperation Council members to develop their own defense capabilities rather than depending on the U.S. as much as they have in the past. That doesn't mean U.S. companies are at risk.
"Their principal supplier of arms -- the U.S. defense industry -- isn't going anywhere soon as far as Kingdom is concerned," James Russell, an associate professor at the Naval Postgraduate School and former Middle East specialist at the Pentagon, said in an e-mail. "They still need our companies and will for the foreseeable future."
Before it's here, it's on the Bloomberg Terminal.
LEARN MORE