RBNZ Rate Call Anyone's Guess as Wheeler Baffles Economists
by
Markets evenly divided over whether RBNZ will cut or hold rate

`That February speech really muddied the water,' ASB says
New Zealand's central bank is becoming harder to predict amid growing frustration with its communication.
Markets are almost evenly divided over whether the Reserve Bank will hold or lower its official cash rate Thursday following last month's surprise cut to a record-low 2.25 percent. That move prompted economists to round on Governor Graeme Wheeler, who they accused of steering them in the wrong direction.
"If the market's on the fence, it does raise questions as to how clear the central bank's been," said Craig Ebert, senior economist at Bank of New Zealand in Wellington. "It's never easy, but it's become incredibly difficult to read the Reserve Bank."
While a stronger New Zealand dollar and resurgent housing market are making life tough for the RBNZ -- one arguing in favor of lower borrowing costs and the other against -- economists have struggled to understand the bank's messages as it grapples with stubbornly low inflation. Investors are also finding it harder to pick Wheeler's rate calls, an analysis of market pricing on the eve of recent decisions shows.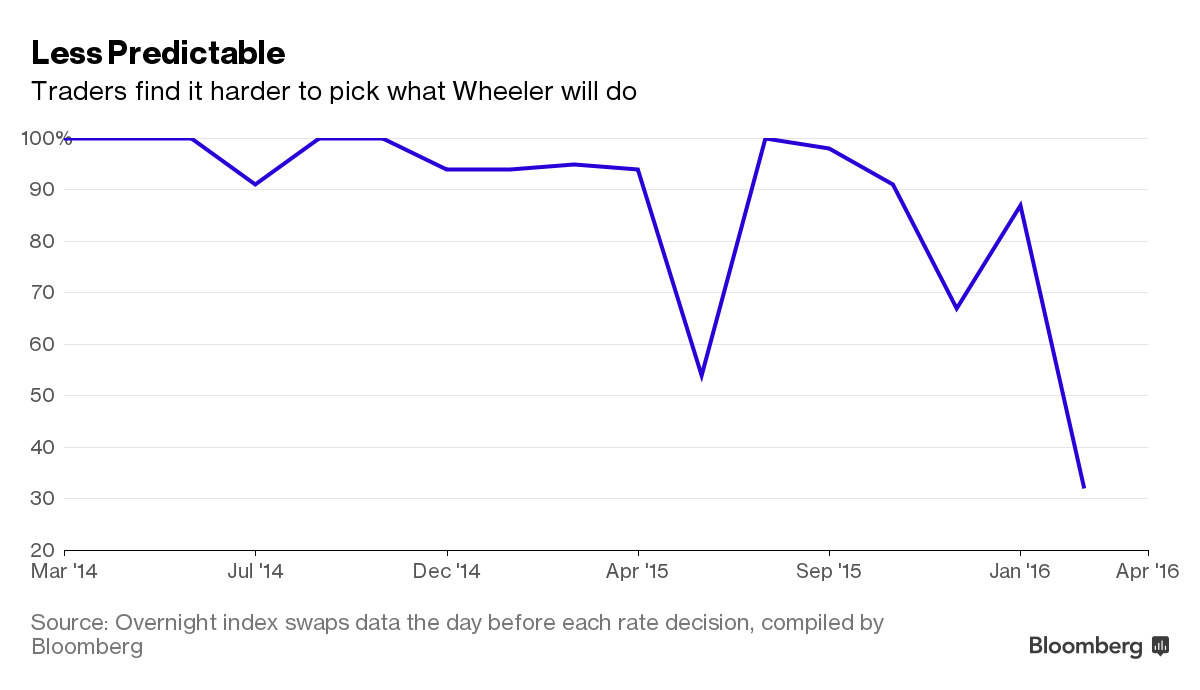 Through 2014 and much of 2015, traders assigned a more than 90 percent probability to the rate announcements the RBNZ would go on to make the following day, according to swaps data compiled by Bloomberg. Their accuracy has deteriorated over the past three decisions, with just a 32 percent chance of a rate cut priced in March.
Wheeler's Dilemma
While only three of 16 economists in a Bloomberg survey expect the bank to deliver another reduction Thursday, many say it's a close call. Reflecting the high degree of uncertainty, investors see a 46 percent chance of a cut, according to market pricing at 5 p.m. in Wellington Wednesday.
Wheeler is in a difficult position. He's tasked with keeping inflation between 1 percent and 3 percent over the medium term with a focus on the 2 percent midpoint -- a target he's failed to meet since taking office in late 2012. Inflation is currently running at just 0.4 percent, yet lowering borrowing costs further may fuel an already booming housing market and threaten financial stability.
In an early February address, Wheeler said the RBNZ would avoid a "mechanistic approach" to low inflation, which was interpreted as a signal he was in no rush to lower rates. Five weeks later the bank cut them and said another reduction was likely, prompting the New Zealand dollar to slump more than one U.S. cent.
Muddied Water
"At times it hasn't been very predictable, and the March OCR decision is a classic example of that," said Nick Tuffley, chief economist at ASB Bank in Auckland. "That February speech really muddied the water."
It wasn't the first time Wheeler damped expectations of further easing. In December, he said the bank expected to achieve its inflation goal with a 2.5 percent OCR setting, spurring a surge in the kiwi dollar even though rates had just been lowered.
And in July last year, Wheeler appeared to pour cold water on forecasts for a sub-2.5 percent cash rate, saying they "could only be consistent with the economy moving into recession."
'Quite Disparaging'
"The governor was quite disparaging of people forecasting that the cash rate could get down to 2 percent, saying it should only get to that level if we were facing recession," said Ebert. "Well we're not facing recession at all and we're set to get a 2 percent cash rate, so we need to understand what else the bank is applying to come to its conclusions."
After last month's rate cut, Wheeler cited a worsening global growth outlook, stronger currency, declining inflation expectations and a more dovish Federal Reserve for the move. He said the February speech was an attempt to explain the flexibility afforded by his mandate, after some "simplistic" commentaries had suggested the bank should automatically cut rates in response to low inflation.
That explanation "doesn't wash too well," said Tuffley. "If they come out with a speech that sounds like they're castigating people for calling for a rate cut, rightly or wrongly people are going to take that as a message that they're reluctant to cut."
Global Easing
Kiwibank senior economist Zoe Wallis, one of only two economists to correctly predict the March 10 move, said while she was "a little bit confused by the February speech," there were enough signs that a reduction was on the cards. Further monetary easing by central banks globally was also a factor in the RBNZ's changed stance, she said.
"You've seen a lot of other central banks cutting into negative territory, and what really matters for New Zealand interest rates is the relativity, not the absolute level," said Wallis, who's forecasting the RBNZ will lower rates again Thursday.
Market uncertainty and volatility around rate announcements may be compounded by the bank's decision to scrap lockups for journalists and analysts after it discovered the March 10 decision had been leaked by a local media organization. That means the bank's policy statements will be covered and analyzed in real time.
The lockups were "an opportunity to understand, and have a free and frank exchange with the Reserve Bank that's lamentably been lost," said Dominick Stephens, chief New Zealand economist at Westpac Banking Corp. in Auckland.
"The Reserve Bank and financial markets have not really completely understood one another over the past year or so," said Stephens, who abandoned his forecast for a March rate cut after Wheeler's February speech. "As people whose job it is to try and predict what the Reserve Bank's going to do, it just means we need to pay a little bit less attention to previous signals or words, and stay focused on the fundamental economic situation."
Before it's here, it's on the Bloomberg Terminal.
LEARN MORE