Qatar Air Could Take Boeing 737s If A320Neo Issue Unresolved
by
Gulf carrier says dropping Airbus orders is a genuine prospect

Al Baker still running rule over Meridiana, Royal Air Maroc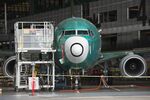 Qatar Airways could switch its order for Airbus Group SE A320neo jetliners to Boeing Co.'s 737 model if issues with the European aircraft's Pratt & Whitney engines aren't resolved by the middle of the year.
Moving from the Pratt-powered variant of the revamped A320 to a version that uses engines from CFM International isn't an option as those planes wouldn't be available until next year, too late to meet Qatar Air's growth targets, Chief Executive Officer Akbar Al Baker told reporters in Dubai Monday.
"We can't wait," Al Baker said at the Arabian Travel Market trade fair. "We have no issues to introduce another type of plane as long as our expansion plans are being sustained. CFM is an option with 737."
Reuters reported earlier that the No. 2 Gulf carrier could take between four and six current-version Boeing 737s to tide it over this year, citing the CEO. Al Baker added at a briefing Tuesday that Qatar could even switch wholesale to an order for the U.S. company's updated Max once planes are available.
While Al Baker has warned before that Qatar's $6.4 billion order for as many as 80 A320neos might be at risk amid engine-cooling issues concerning Pratt-equipped planes, he suggested then that CFM-powered Neos might be an option, rather than that Boeing could be handed orders.
NG Planes
The Max, Boeing's direct rival to the A320neo, uses only the CFM Leap turbine, though isn't scheduled to enter service until 2017. Al Baker said he's therefore initially looking at the current-version plane, known as the "Next Generation," equipped with the older CFM56 powerplant.
Qatar Air is continuing talks about investing in Italy's Meridiana SpA but needs union concessions over job cuts and structural changes that will mean "some pain," the executive said. A decision will be taken by the end of June, he said.
Commenting on his interest in Royal Air Maroc, Al Baker said there's an understanding between the Qatari and Moroccan government that could lead Qatar Air to purchase a 25 percent to 49 percent equity stake.
Qatar Air will lift capacity by as much as 30 percent in 2016, taking delivery of about 30 wide-body aircraft and adding 14 routes. It will announce five more routes this year and plans flights to Thessaloniki, in Greece, the CEO said.
Reuters reported that Airbus is also experiencing hydraulic issues with the A320neo. Airbus said that it aims to resolve any glitches concerning the plane by the middle of 2016, without commenting directly on its hydraulics.
Before it's here, it's on the Bloomberg Terminal.
LEARN MORE