Prediction Markets Not Convinced by Cruz-Kasich Alliance to Topple Trump
The Indiana race has tightened, yet still favors Trump, who's actually increased his lead in Oregon.
By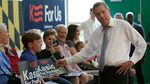 The "Never Trump" movement may be cheering the plan announced Sunday night by Ted Cruz and John Kasich to divvy up several states in order to peel away delegates from Republican front-runner Donald Trump. Another group was less impressed by the announcement: prediction markets.
In Indiana, whose May 3 contest Kasich promised to skip, news of the deal quickly caused Trump's odds of victory to tumble from nearly 70 percent to 51 percent, according to the website PredictWise, which aggregates betting market data. At the same time, Cruz saw his Indiana odds rise from around 30 percent to a high of 49 percent, effectively transforming the view of the race into a toss-up, at least temporarily. But within 24 hours of the announcement, Trump's odds had already partially recovered to 64 percent.
"Coordination is failing in Indiana, because it's backfiring with moderates who may go to Trump and it's hard for people to vote strategically," said David Rothschild, a Microsoft Research economist who runs PredictWise. Also, "the markets are counting on Cruz getting slaughtered tomorrow (blunting any momentum from this) and not sure how strong this alliance really is when Kasich told his supporters to still vote for him."

In Oregon, whose May 17 contest Cruz ceded to Kasich, the pair's strategy already appears to be backfiring. Yes, Kasich has seen his odds boosted from just 2 percent on Sunday to as high as 27 percent, but within 24 hours of the announcement he was already down to around 15 percent. Meanwhile, Cruz's odds fell off a cliff, from nearly 50 percent on Sunday to a low of 4 percent, recovering only into the low teens since then. As for Trump, the actual target of this coordinated plan, his Oregon odds went from 52 percent on Sunday afternoon to as high as 74 percent on Monday.

The next test of this anti-Trump maneuver will be whether Kasich voters in Indiana do in fact flock to Cruz, or whether a slew of predicted third-place finishes for the senator on Tuesday lead to a Hoosier State delegate bonanza for the front-runner.