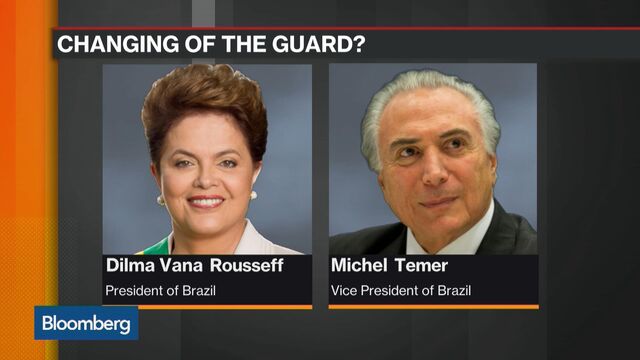 A political maelstrom is threatening to unseat President Dilma Rousseff. Waiting in the wings is her vice president, Michel Temer, who's set to take over during her likely impeachment trial in the Senate. His task would be formidable: cobble together a majority of lawmakers to enact reforms that not only bring about recovery of an economy mired in recession, but also lay the foundation for sustainable growth.
After interviewing economists, investors and a former central bank president, here's a look at key policy priorities they say a Temer administration should consider.
Defuse the Pension Time Bomb
 The pension system deficit accounts for more than a third of the general budget shortfall. Brazil is already an anomaly as a young country with middling income, but the pension expenses of a rich, aged one. And the situation is getting worse.
``If nothing is done, in approximately 25 years Brazil will spend 20 percent of GDP on pension -- more than Italy, which is the country that currently spends the most of all,'' according to Paulo Tafner, an economist and expert on the nation's pension system.

Tafner says a Temer government should raise the minimum age for retirement, and dissociate pension payment adjustments from increases in the minimum wage. Loopholes still have an impact; for example, daughters of deceased military members who joined the armed forces before 2000 can inherit full pensions for life until they marry, so they simply never sign the paperwork to formalize their unions.
Delever now
Mandatory expenses, such education and health, account for about 80 percent of government spending, making it hard for the government to cut its budget deficit of almost 11 percent of GDP and reduce debt levels -- already the highest among the BRICS and major Latin American peers.
``The perception is stronger than ever that there's something wrong with the size of the public debt, and cost of the public debt,'' Gustavo Franco, a former Brazil central bank president, said. ``Deleveraging is by all means urgent and recommended.''

Temer's party said in its policy blueprint that non-discretionary expenses must be addressed. That would be certainly face fierce opposition from Rousseff's Workers' Party. Temer is head of the PMDB party, which abandoned the governing coalition last month.
Growth Reboot
Growth in the past decade came from consumption of the much-heralded ``new middle class.'' That engine has lapsed into reverse gear, and now economists say investment should become Brazil's driving force.
Part of the solution is fixing policies that are ``very consumer and labor friendly, and very business and investment unfriendly,'' says Fitch Ratings' chief economist Brian Coulton. ``If Brazil is going to resume decent trend growth in the medium-term, you need the reversal. You need a period where you have more investment, more profitability and less consumption.''
Only labor and tax reforms would produce the tectonic shift needed to fully unlock investment, economists say. For instance, companies are often reluctant to hire new workers because it's so costly to dismiss them. Last year workers filed a record 2.7 million lawsuits in labor courts, according to data from the Superior Labor Court. And it takes the average company 2,600 hours to file taxes, the most among all nations in the World Bank's Doing Business report. In that time, an ambitious tax attorney could circumnavigate the globe in a hot air balloon seven times. (A less ambitious one could binge watch all four seasons of House of Cards 50 times straight.)
Fix Messy Party System
A Temer administration could pursue reform of Brazil's dysfunctional political system. Legislation here is accomplished through coalition building, which is no small feat in a nation with 35 registered parties.
``The more people that you need to negotiate with, the more difficult it is to pass legislation, and the way the system is geared right now is a very expensive way to do it,'' said Cameron Combs, a Brazil researcher for Washington-based political risk consultancy Eurasia Group. 

Adding to the disorder, congressmen often switch parties and there are low barriers to forming new ones; in fact, there are incentives to do so. Three were created just last September, including the unironically-named New Party. Another was the Brazilian Women's Party, whose representation in Congress quickly surged to more than 20 members – nearly all of whom were men. They were lambasted for allegedly seeking the federal funding given to parties and representation has since fallen to a single (male) member. Political reform is needed to make it more difficult to defect or create parties, Combs says.
(Corrects fifth paragraph to clarify that only the daughters of those who joined the military before 2000 are entitled to pensions until they marry.)
Before it's here, it's on the Bloomberg Terminal.
LEARN MORE