Mitsubishi's Fuel Economy Claims Being Probed by U.S. Regulators
by and
U.S. EPA and California board reviewing fuel economy

Violations of Japanese testing standards reported last week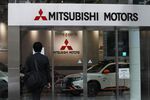 Add a U.S. probe to Mitsubishi Motors Corp.'s woes.
The U.S. Environmental Protection Agency and the California Air Resources Board are reviewing whether models sold in the U.S. meet fuel-economy regulations, EPA spokeswoman Julia Valentine said in an e-mailed statement Tuesday in Washington.
The EPA has instructed Mitsubishi to provide additional information on U.S. vehicles, and it will be directing the company to conduct additional testing, she said. Mitsubishi's public statements so far haven't indicated that any of the affected vehicles were sold in the U.S.
The Tokyo-based company said it has hired three former Japanese prosecutors to look into the possibility it has improperly tested its cars for fuel economy dating back to 1991. The company said last week it hadn't been complying with Japanese testing standards since 2002.
"Customers bought our cars based on incorrect fuel-economy data," President Tetsuro Aikawa told reporters during a news conference Tuesday. "I can't help but apologize."
Mitsubishi Motors hasn't decided on how it will compensate customers, said Aikawa, who also told reporters he hadn't been aware of the improper testing.
"I'm taking this as a case that could affect our company's existence," he said.
Before it's here, it's on the Bloomberg Terminal.
LEARN MORE