Freeport CEO Expects Another $1.6 Billion in Asset Sales by June
by
Adkerson `very confident' will meet a debt covenant provision

Company speaking to `multiple' parties about possible deals
The head of Freeport-McMoRan Inc. was short on details about asset sales during his first-quarter earnings call, but long on optimism.
Analysts repeatedly prodded Chief Executive Officer Richard Adkerson to explain what the world's biggest publicly traded copper miner intends to sell in order to shore up its balance sheet. While apologizing for failing to give specifics, Adkerson said the company is in talks with "multiple parties" on "multiple alternatives" and expects to provide further details this quarter.
"I am feeling much better today than I did in January," Adkerson told analysts on the call Tuesday. "I think we will be successful with these initial rounds of discussions but if, for whatever reasons we're not, we have other alternatives to turn to."
The metals and energy producer has been striving to cut costs and shore up its balance sheet amid slumping prices for everything it sells. In January, Freeport said it intended "to complete significant asset sale transactions" to reduce its debt, which stood at about $20 billion at the end of 2015.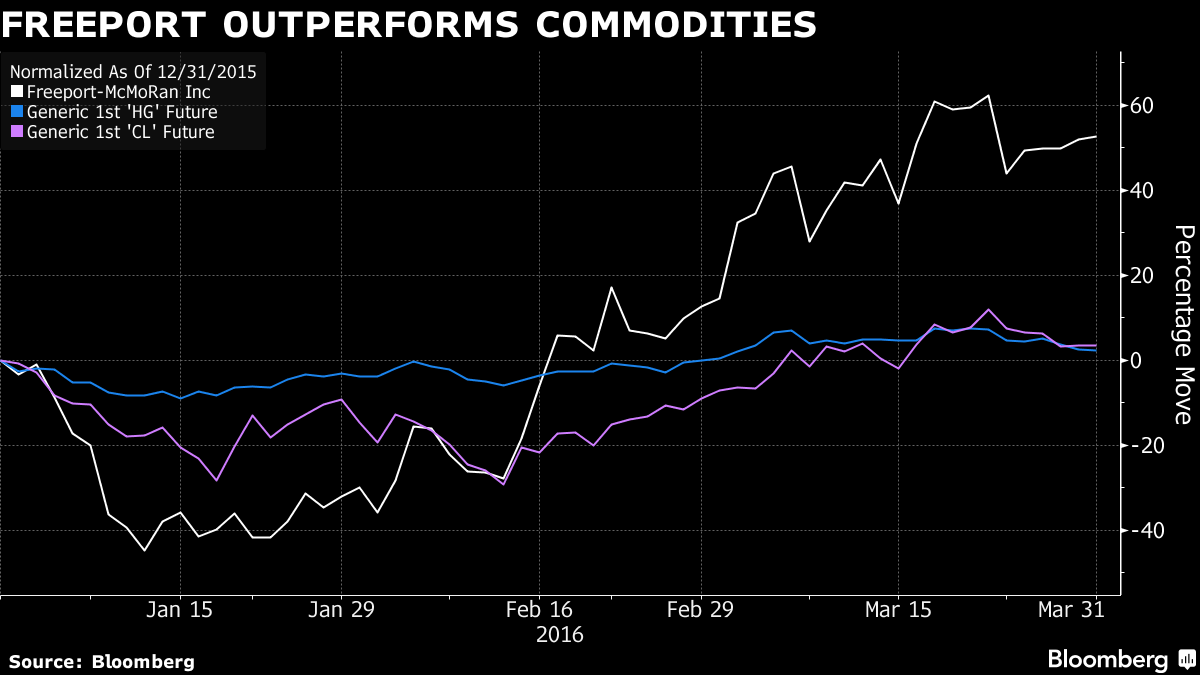 To keep its debt unsecured, the company needs to announce $3 billion in asset sales by the end of the second quarter. Otherwise Freeport would be required to secure its revolver and term loan with collateral. This year, Freeport has announced $1.4 billion in asset sales, the Phoenix-based company said Tuesday in its earnings statement.
"We really expect to meet that springing collateral test in the second quarter," Adkerson said on the call. "I'm very confident about that."
Asked if the company is focused on selling minority stakes in assets in order to maintain control of those businesses, Adkerson said many of its assets need to stay together so that the company can maximize synergies.
"One thing we're looking at is how can we do transactions that retain that ability for Freeport to create value," he said. "Other assets which we don't want to sell but we have to look to sell would involve a transfer of ownership. There's certain companies in the world today who would only do a transaction if they can be operators."
Core Assets
In February, Freeport announced an agreement to sell a $1 billion stake in its giant Morenci mine in Arizona to Sumitomo Metal Mining Co. Its other so-called core mines are: Indonesia's Grasberg, Peru's Cerro Verde, Chile's El Abra and Tenke Fungurume in the Democratic Republic of Congo.
Freeport has been approaching potential investors about buying minority stakes in various asset packages, people with knowledge of the matter told Bloomberg. The packages include combinations of South American, U.S., and African mines acquired when the company bought Phelps Dodge Corp. in 2007.
Freeport reported a sixth straight quarterly loss earlier in the day. Its first-quarter net loss widened to $4.18 billion from $2.47 billion a year earlier, Freeport said. Excluding one-time items, the loss was 16 cents a share compared with the 17-cent loss estimated on average by 17 analysts tracked by Bloomberg. Sales fell 15 percent from a year earlier to $3.53 billion.
"At the end of the day we're looking for transactions that are executable at acceptable values and in ways that help us meet our financial objectives," Adkerson said.
Before it's here, it's on the Bloomberg Terminal.
LEARN MORE