The Hedge Fund Manager Betting Soros Is Wrong About China
By and
Impala hedge fund manager says economy `already had the crash'

Fund, with $2.2 billion, said to post 2% gain in first quarter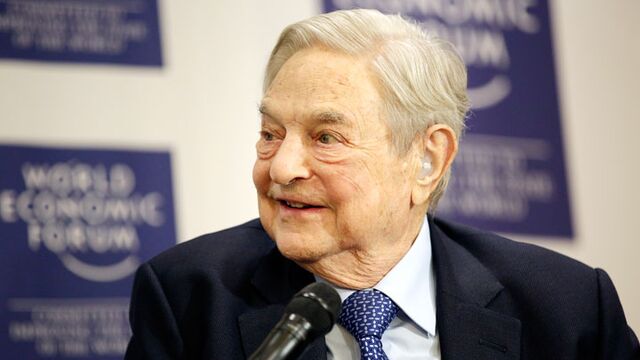 Bob Bishop, who once ran investments for billionaire George Soros, is betting his former boss is wrong about China. The world's second-biggest economy has had its hard landing and is on its way up, according to Bishop.
Rising infrastructure spending, steel production and demand for metal and heavy-duty trucks are signs of improvement for the nation's industrial and manufacturing sectors, said Bishop, a former chief investment officer at Soros Fund Management who runs $2.2 billion hedge fund Impala Asset Management. Soros said last week that China resembles the U.S. in 2007-08, when credit markets froze and triggered a global recession, and that its banking system is increasingly unstable.
"China already had the crash," Bishop said in an April 18 interview. "It bottomed at the end of 2015. It's going to feel like a much better economy in China over the next two years than people seem to think it will be."
Policy makers in China talked up growth and added stimulus this year to re-energize the economy. In March, the purchasing managers index ticked above 50, signaling expanding factory activity for the first time since June. A recovering China, which is a key importer of steel, copper, iron ore and other metals, bodes well for commodity prices. The price of iron ore rose 44 percent this year as of 1:45 p.m. Tuesday in New York, and copper was up more than 5 percent.
If copper reaches $3.25 a pound, which Bishop expects will occur in 2017, Freeport-McMoRan Inc., the largest publicly traded copper miner, could earn $3 a share, he said. Impala initiated a "modest" investment in the stock in the past month and a half, according to Bishop. It also took a position in miner First Quantum Minerals Ltd.
Commodity Stocks
The firm has boosted its investments in commodity stocks to about 20 percent of the Impala Fund from 4 percent at the start of this year, Bishop said.
"What people often miss on commodity stocks is that their earnings leverage and stock sensitivity to price movements in the underlying commodity is very high, more so than any other sectors in the market," Bishop said.
The Standard & Poor's Global Natural Resources Net Total Return Index has rebounded almost 40 percent since Jan. 20, its low point this year, after a slide that began in mid-2014 as China's economic growth slowed.
Bishop, who worked at Soros between 2002 and 2003, started New Canaan, Connecticut-based Impala in 2004. Its main equity fund, which manages about $1.5 billion, gained 7.7 percent in March, bringing returns for the year to 2 percent, according to a person familiar with the matter.
Bishop declined to comment on performance or on Soros's views.
Warning Sign
China's March credit-growth figures should be viewed as a warning sign, Soros said at an Asia Society event in New York on April 20. The broadest measure of new credit in the nation was 2.34 trillion yuan ($360 billion) last month, far exceeding the median forecast of 1.4 trillion yuan in a Bloomberg survey.
Soros, a former hedge fund manager who built a $24 billion fortune, in January called a hard landing in China "practically unavoidable." Soros returned outside capital in 2011 and his firm now manages his own wealth. Hedge fund managers including Crispin Odey at London-based Odey Asset Management and Kyle Bass at Hayman Capital Management in Dallas have been wagering on a slowdown in China. Bass is said to be starting a fund to focus on China-related investments.
Bishop isn't the only U.S. hedge fund manager who's bullish on China. In March, Jordi Visser, head of investments at $1.4 billion Weiss Multi-Strategy Advisors, said China's Shenzhen Composite Index will beat most global peers by the end of this year.
Bishop spent at least a decade focusing on commodities and other cyclical stocks at hedge funds Maverick Capital, Kingdon Capital and Julian Robertson's Tiger Management.
Impala said in a March 31 investor memo obtained by Bloomberg that energy prices have bottomed, and that improving U.S. demographic and consumer trends, loosening mortgage availability and tight supply are creating an environment in which the homebuilding cycle will accelerate.