Eli Lilly Raises 2016 Profit Forecast After Tax Benefit
by
Drugmaker says earnings will be $3.50 to $3.60 a share in 2016

First-quarter profit declined to 83 cents; estimate 85 cents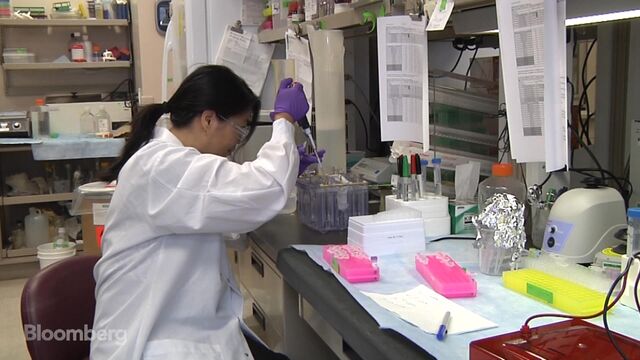 Eli Lilly & Co. raised its profit and sales forecasts for the year after receiving a tax benefit in the first quarter.
Profit excluding some items will be $3.50 to $3.60 a share, up from a previous forecast of $3.45 to $3.55 a share, the company said Tuesday in a statement. Sales in 2016 will be $20.6 billion to $21.1 billion, compared with an earlier prediction of $20.2 billion to $20.7 billion.

The Indianapolis-based drugmaker posted first-quarter earnings that declined as the company took a $203.9 million charge related to the impact of the Venezuelan financial crisis. Profit excluding some items was 83 cents a share, compared with the 85-cent average of analysts' predictions compiled by Bloomberg. Shares fell less than 1.1 percent to $76.87 at 10:34 a.m. in New York.
Sales of the insulin Humalog were $606 million in the first quarter, shy of the $730 million estimated by analysts, and the erectile dysfunction drug Cialis topped the $546 million estimate with sales of $577 million. The company said the slide in Humalog sales from $684 million in the first quarter of 2015 was a one-time consequence of the occurrence of certain rebates, and didn't expect the trend to continue.
The "underlying trends in Humalog look solid," Chief Executive Officer John Lechleiter said Tuesday in an interview on Bloomberg TV. The company expects "single-digit growth" recently seen in the drug's sales to continue, Phil Johnson, head of investor relations, said on a call with analysts.
Eli Lilly gave additional first-quarter financial results in the statement :
Sales rose 4.7 percent from a year earlier to $4.87 billion, beating the average estimate of $4.85 billion.
Net income fell 17 percent to $440 million, or 41 cents a share, from $530 million, or 50 cents a share, a year earlier.


Eli Lilly has raised its spending on development of key therapies to revive sales growth after losing patent protection on two of its biggest drugs in 2011 and 2013, and said in January that it expects to increase spending on research. The company has brought to market new diabetes treatments and is pushing ahead with projects in cancer and Alzheimer's disease.
Last month the company took the unusual move of changing its main goal in a final-stage study testing its experimental drug for Alzheimer's disease, solanezumab. Eli Lilly did not seek formal approval from regulators about the change, David Ricks, the company's head of biomedicines, said on the call.
Before it's here, it's on the Bloomberg Terminal.
LEARN MORE