Deutsche Bank Board Uproar Pits Lonely Lawyer Against Chairman
by and
Thoma said to have sparred with Achleitner in front of others

Chairman said to have backed Thoma board appointment in 2013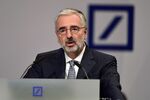 Georg Thoma, the lawyer, and Paul Achleitner, the financier, worked together for more than two decades modernizing Germany Inc. When Achleitner needed a specialist to solve the multibillion-dollar legal headaches at Deutsche Bank AG, where he was chairman, he turned to Thoma.
But now, the 71-year-old attorney has turned on the banker. The conflict has burst into the open, deepening the troubles at the country's dominant financial institution. Thoma's intensive inquiries into Achleitner and Deutsche Bank executives have left him isolated, according to at least two board members who have spoken out against him in public. The 20-person supervisory board was scheduled to meet this week and will probably discuss Thoma, who may come under pressure to step down, a person familiar with the matter said.

The tensions date as far back as 2014, when Thoma's probes were fraying his relationships on the board. Then, last year he sought co-Chief Executive Officer John Cryan's approval for a probe -- now under way -- into Achleitner's role in how the bank responded to a U.K. investigation of the firm's Libor-setting practices, according to people familiar with matter.
A Deutsche Bank spokesman declined to comment for the institution and on Achleitner's behalf. Thoma didn't respond to requests for comment.
'Frustration'
"The current infighting is simply a reflection of the frustration current board members are feeling as they attempt to clean up the mess caused by earlier bank transgressions," said Mark Williams, a lecturer at Boston University and author of "Uncontrolled Risk," a book on the rise and fall of Lehman Brothers Holdings Inc. "The extent of open infighting is not healthy and points to a bank that still has not fixed its corporate governance issues."
Cryan was appointed co-CEO last year to turn around a bank whose regulatory and business shortcomings have sent its shares down 48 percent in the past 12 months and made Deutsche Bank the lowest-valued global lender. In addition to the legal costs, a trading slump has eroded revenue, compounding concerns that it can't earn enough to fund the overhaul. The bank's costs and provisions for fines and lawsuits exceeded 12 billion euros ($13.5 billion) in the years 2012 to 2015, helping wipe out profits in the period.
Thoma's conflict with the board erupted this week. Deputy Chairman Alfred Herling criticized him in a German newspaper, saying he was going too far and spending too much in probing potential wrongdoing.
"We'd prefer Deutsche's management to focus on getting the bank back in shape and not being distracted by internal disputes," said Michael Huenseler, who helps manage about 17 billion euros including the bank's bonds at Assenagon Asset Management. "The ongoing legal battles remain a concern."
Board Overhaul
Achleitner tapped the Shearman & Sterling LLP lawyer for the board in 2013 as part of an overhaul to bring in more legal and finance specialists. Dina Dublon, former chief financial officer at JPMorgan Chase & Co. and Cryan, the former CFO of UBS Group AG, joined at the same time. Since then, Louise Parent, a lawyer at Cleary, Gottlieb Steen & Hamilton LLP, and Richard Meddings, a former executive director at Standard Chartered Plc, have also joined the supervisory board.
Thoma was born in the southwestern German city of Trier in 1944 and studied law in Bonn and Freiburg. He joined Linklaters & Paines in London in 1977 before moving to Shearman & Sterling in New York in 1978. He was a partner in that firm's mergers and acquisitions group from 1991 to 2014 before becoming of counsel at the start of last year.
Heading a board committee that monitors and analyzes legal risks, Thoma was brought on to help improve controls and work through the bank's numerous cases of misconduct. Achleitner told some colleagues at that time that the lawyer's experience would be a boon as post-financial-crisis scandals were just beginning to hit European banks, according to a person familiar with the matter.
Personal Connection
There was a personal connection too. The friendship between Achleitner, 59, and Thoma went back decades. The two men worked on the privatization of the eastern German chemicals industry after the fall of communism. When Achleitner moved to Allianz SE in 2000 from Goldman Sachs Group Inc., Thoma advised the insurer on its purchase of Dresdner Bank the following year and on the subsequent sale of the lender to Commerzbank AG in 2008.
"Georg Thoma is without a doubt one of the distinguished lawyers in Germany," Achleitner's wife, Ann-Kristin, said in a speech in 2005 congratulating Thoma on his award of an honorary doctorate by the European Business School in Germany.
With Deutsche Bank embroiled with regulators and prosecutors in the U.S. and U.K., Thoma has grown increasingly concerned with his own personal liability and that of his colleagues, said one of the people.
Achleitner and Thoma have also clashed in front of other supervisory board members, said people who have seen them squabble. The conflicts have erupted over strategic issues as well as small formalities, one said.
The costs for Thoma's investigations are "no longer proportionate," Herling told the Frankfurter Allgemeine Sonntagszeitung. The internal probes relating to the supervisory board may have cost 14 million euros in legal fees for 2014 alone, said one of the people familiar with the probes.
Focus Criticized
Herling, reached by phone on Monday, confirmed the comments attributed to him by the newspaper and said he had nothing to add. The newspaper also cited board member Henning Kagermann as saying that while the bank needs to be diligent in working through its legal issues, it also has to able to move on and focus on its future.
"The company needs to return to calmer waters and to do that, the supervisory board needs to determine what went wrong," said Dieter Hein, an analyst at Fairesearch-Alphavalue in Kronberg, close to Frankfurt who has a sell recommendation on the shares. "I get the impression that Thoma is just doing his job."
Michael Seufert, an analyst at Norddeutsche Landesbank in Hanover says the issue isn't that clear cut.
"The bank has to focus on the future and its success, so it is a legitimate question whether you can delve too deeply," said Seufert, who has a hold stance on the shares. "Deutsche Bank and the wider industry have changed so much over the last few years that our understanding of what is inappropriate today doesn't necessarily reflect the practices of the past."
Before it's here, it's on the Bloomberg Terminal.
LEARN MORE