Citigroup Executive Pay Draws More Investor Ire Than Bank Size
by
About 64% of shareholders vote for executive-pay plan

Less than 4% favor further study into additional asset sales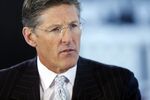 More than a third of Citigroup Inc. shareholders voted against the bank's proposal for executive compensation, while more than 96 percent opposed a plan to review whether the company should shrink further.
The pay question passed despite opposition from two of the largest proxy advisers, who said compensation levels were too high given share price declines. About 63.6 percent of shareholders voted in favor of it, the bank said Tuesday at its annual meeting in Coral Gables, Florida.

A separate proposal that would have required the board to set up a committee and conduct a review into whether Citigroup should sell more non-core assets to boost the stock price won just 3.5 percent of the vote.
The compensation vote means Chief Executive Officer Michael Corbat will avoid the fate of his predecessor, Vikram Pandit, who oversaw a shareholder revolt at the 2012 annual meeting that helped spur his ouster less than six months later. This year's vote compares with the 61 percent of shareholders who approved JPMorgan Chase & Co.'s plan last year, a tally that prompted that firm's board to consider changes to the compensation policy.
Shareholder "say on pay" was mandated in 2010 by the Dodd-Frank financial-reform law, which calls for such votes at least every three years. Ninety percent of companies in the Standard & Poor's 500 Index hold them annually, according to data compiled by Bloomberg. Failing votes are rare. Support for pay packages in the S&P 500 Index averaged 92 percent in each company's most recent vote, the data show. Only three companies in the index had a majority of shareholders disapprove.
Citigroup amended the way it calculates performance pay after hearing complaints from some stakeholders, according to a regulatory filing this month. Glass Lewis & Co. and Institutional Shareholder Services, two of the largest proxy advisers, still recommended clients vote against this year's plan.
A proposal to require greater disclosure about Citigroup's lobbying efforts attracted 23.6 percent of votes in favor, and each of the bank's directors were elected, according to today's vote, which was based on a preliminary count.
Before it's here, it's on the Bloomberg Terminal.
LEARN MORE