Chinese Navy in South China Sea Draws U.S. Admiral's Praise
By
`Completely professional' interactions, says Admiral Hitchcock

U.S. aircraft carrier is currently sailing in South China Sea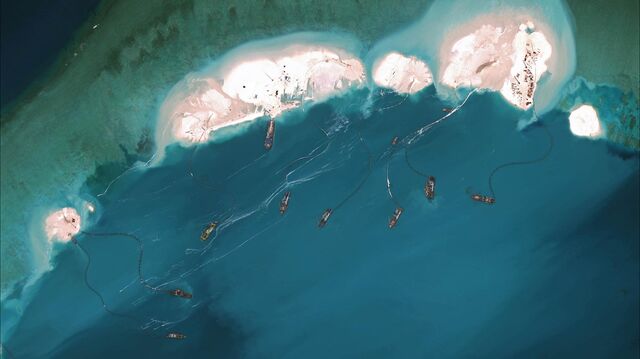 Standing on a nuclear-powered U.S. aircraft carrier the length of more than three football fields as it plows through one of the world's most contested seas, Rear Admiral Marcus Hitchcock has only high praise for the navy of his biggest military rival: China.
Around 125 nautical miles from the Malaysian coast in the South China Sea, Hitchcock, the newly-minted commander of the carrier strike group led by the USS John C. Stennis, says his ships have been engaged on almost a "twenty four-seven basis" with a "completely professional" People's Liberation Army Navy.

"We have had nothing but professional interactions," he said on Monday on the flag deck of the John C. Stennis, over the near-constant roar of fighter jets taking off and landing. "The ocean is a very connected environment, and the sailors that are on it, the navies that are on it are very connected, no matter what their nations are going through diplomatically."
Those diplomatic issues are, however, increasingly bleeding into the military sphere, amid accusations by the U.S. and China that the other is militarizing the South China Sea, a key shipping lane that's the subject of overlapping territorial claims by China and Southeast Asian nations like Vietnam. The deployment of the carrier comes against the backdrop of tensions over China's land reclamation that has enabled it to build airstrips and base missiles in the area.
Flanked by three destroyers, and with a guided missile cruiser also in the strike group, the John C. Stennis doesn't need to venture into waters claimed by China to send a message. China currently has just one aircraft carrier, the Liaoning, commissioned in 2012 and built in a hull purchased from the Ukraine. It is building a second one domestically.
The two countries' navies have been abiding by a code they set up for unplanned encounters at sea, Hitchcock said. The code is "going very well."
Coast Guard
But it doesn't extend to groups including the coast guard, and with China increasingly using its coast guard in the South China Sea as a de facto navy, security analysts have warned of the increased risk of a clash. In March, an Indonesian patrol ship was caught in a scuffle with Chinese coast guard vessels over a fishing boat that was snared inside Indonesian waters, and the country has now pledged to deploy F-16 fighter jets to the area.
QuickTake Territorial Disputes
Hitchcock is among the senior navy officers urging coast guards to develop a similar code. "It's an absolutely reasonable way to make sure we are number one understanding each other and communicating our intent," he said. "Once people understand each other and communicate their intent, I think you find reasonable people make reasonable decisions to go about their business in a responsible fashion."
The presence of the John C. Stennis and a recent visit to the region by Defense Secretary Ashton Carter -- including a trip to the carrier -- coincided with a ramping up of activity by China. Central Military Commission vice chairman Fan Changlong, second-only in military rank to President Xi Jinping, made a visit this month to Fiery Cross Reef. A PLA plane also landed on a reef this month in what the official Xinhua news agency described as a medical rescue mission.
On Monday China's defense ministry said in a statement it was concerned by news that six U.S. Air Force planes flew in international airspace in the vicinity of Scarborough Shoal on April 19. "The Chinese military will take all necessary measures to safeguard national sovereignty and security," the ministry said.

Hitchcock said the increased U.S. military presence in Southeast Asia did not risk making things worse. Last year, the U.S. began to challenge China by sailing warships near its reclaimed reefs in so-called freedom of navigation operations.
"This is a routine, scheduled deployment," Hitchcock said. "We've committed to unimpeded commerce in this region."
The resumption of freedom of navigation operations in the area is not a challenge to sovereignty, he added. "They are challenges to excessive territorial claims. We take no position on sovereignty other than to say we hope there is a peaceful and diplomatic resolution to sovereignty challenges here in this region."