Chinese Stocks Advance Most in Two Weeks as Turnover Shrinks
Bloomberg News
Health-care companies rally on improving earnings prospects

UBS says Hong Kong traders should be worried amid defaults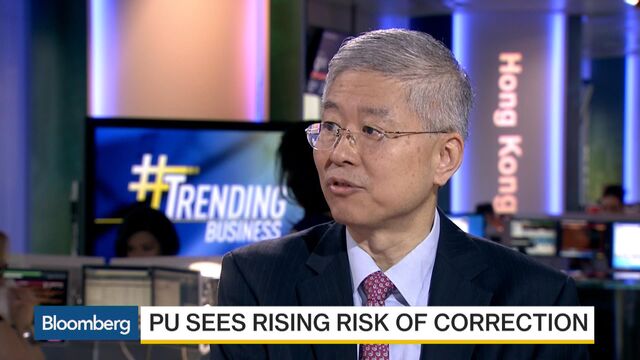 China's stocks rose the most in almost two weeks in thin trading as investors sought havens in shares with improving earnings growth prospects such as health-care companies amid volatility in commodity futures markets.
The Shanghai Composite Index climbed in the last hour of trading to close 0.6 percent higher. Trading values fell to 134.1 billion yuan ($20.6 billion), a low seen only four times since 2014. Beijing SL Pharmaceutical Co. and Aier Eye Hospital Group Co. surged at least 5 percent. Material shares were the worst performers, with Yunnan Copper Co. sliding 1 percent after swinging to a first-quarter loss. The Hang Seng China Enterprises Index halted a two-day slide.
Investor interest in equities has waned as speculators turned their sights on commodity futures and the housing market. Retail investors comprise about 80 percent of trading in China's share market. Health-care companies are forecast to increase earnings per share by 18 percent in the next 12 months, almost double that of the CSI 300 Index, according to data compiled by Bloomberg.
"Investors are turning more defensive and moving into companies that have stable earnings growth," said Wang Zheng, Shanghai-based chief investment officer at Jingxi Investment Management Co. "Investors cannot see the future clearly as corporate earnings are not doing very well so their first reaction is to avoid risks. The current boom in the commodity futures market is simply a bear-market rally and the trend may continue for a while," said Wang, who is keeping his stock allocations at about 40 percent of assets.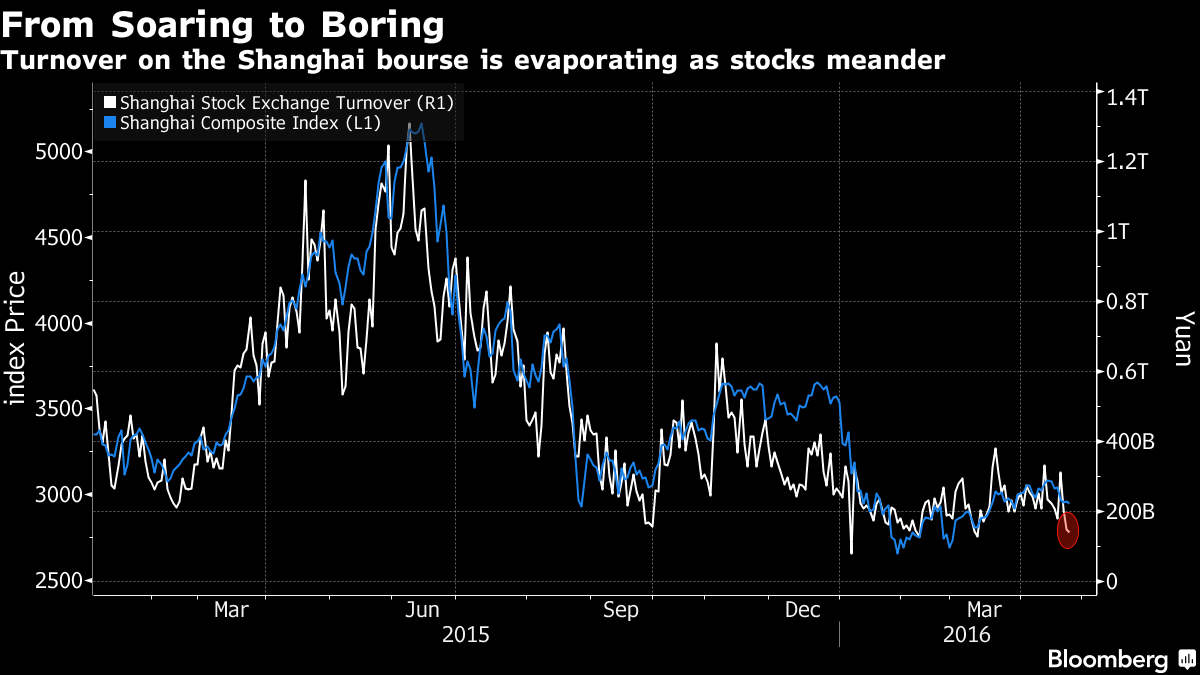 The Shanghai Composite closed at 2,964.70 in trading volumes 45 percent below the 30-day average. The Hang Seng China index rose 0.3 percent, while the Hang Seng Index added 0.5 percent.
A gauge of pharmaceutical shares in the CSI 300 climbed 1.2 percent for the steepest gain among 10 industry groups. Beijing SL Pharmaceutical jumped 6 percent, and Sichuan Kelun Pharmaceutical Co. rose 2.8 percent. The health-care measure has declined 15 percent this year, compared with a 16 percent slump for the Shanghai Composite.
In Hong Kong, banks and oil companies advanced. Bank of China Ltd. rose 1 percent before the release of first-quarter earnings. China Petroleum & Chemical Corp. gained 1.9 percent. Asia's biggest refiner is planning to sell $3 billion of bonds in four parts to refinance debt, according to a person with knowledge of the matter.
Bank Rules
A Chinese bank head signaled confidence that the government will loosen requirements for lenders' bad-debt provisions, a move that could help them to report larger profits. A reduction in the coverage ratio to about 120 percent to 130 percent of existing nonperforming debt would be "reasonable" and "possible," Wang Hongzhang, the chairman of China Construction Bank Corp., told Bloomberg News on the sidelines of an event in Singapore on Monday.
Brokerages dropped amid concern slumping turnover will hurt earnings. Huatai Securities Co. slid 1.2 percent to pace declines for brokerages. Everbright Securities Co. and Guoyuan Securities Co. fell in mainland trading after reporting plunging first-quarter profits.
A gauge of material shares in the CSI 300 rose 0.1 percent, compared with a 0.5 percent advance for the broader index. Jiangxi Copper Co. declined 1.4 percent.
The Zhengzhou Commodity Exchange will raise margin requirements for all futures contracts to 7 percent for the Labor Day holiday next week, according to a statement posted on its website. Futures exchanges in Shanghai, Dalian and Zhengzhou all increased trading costs for contracts from coal to chemical products in the past week.
Default Risks
China's state-backed companies no longer have the ironclad support of the government -- and that's bad news for the equity bull market in Hong Kong, says UBS Group AG.
Three of the seven Chinese companies that defaulted on debt repayments this year are partly owned by the state, including Baoding Tianwei Group Co. The end of implicit government support will drive up funding costs and undermine foreign investor confidence in the 20 percent rebound by the Hang Seng China index, said Lu Wenjie, a Shanghai-based equity strategist at UBS.
A Bloomberg Intelligence gauge of six large casino operators traded in Hong Kong dropped 0.9 percent. Wynn Macau Ltd. slid 1.4 percent. Even after Macau casino stocks had their worst week since January, Invesco Ltd.'s Paul Chan says there's no let up in sight. A rebound since the January low will falter given operators are adding new gaming tables, industry revenues are dropping and big spenders are staying away from the enclave, he said.
— With assistance by Shidong Zhang
Before it's here, it's on the Bloomberg Terminal.
LEARN MORE