Stabilization of China's Capital Outflows May Hinge on Janet Yellen
by
Stable yuan has calmed a rush to get money out of China

Outlook depends on what the Fed signals for U.S. rate hikes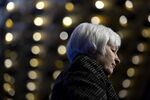 Whether China's recent stabilization of its currency and capital outflows continues -- or downside pressure reignites -- may hinge in large part on Janet Yellen.
If the Federal Reserve chair sticks to a dovish script this week, there would be no obvious trigger for a greenback rally and resulting cue for Chinese companies and savers to squirrel money out of the nation. Any signal of an imminent interest-rate increase, and it's a different story -- a U.S. dollar rally could suck money out of China, posing an added complication for the People's Bank of China's efforts to underpin economic growth. 
"The Fed and China are stuck in an uncomfortable dance," said Frederic Neumann, co-head of Asian economic research at HSBC Holdings Plc. "This yin-yang of the Fed and the PBOC could thus reignite volatility down the road."

Fed policy makers aren't forecast to tighten during their two-day meeting ending Wednesday in Washington. While officials are projecting two rate hikes this year, prices in federal funds futures contracts signal that investors see just one increase in 2016 as the more likely outcome.
Since the Fed last met in March, China's own $10-trillion-plus economy has shown signs of stabilizing and its currency and stock markets have calmed, potentially clearing one of the rate-hike hurdles that Yellen had flagged.
'Crucial Part'
"The Fed is a crucial part of the dollar-yuan story," said Wang Tao, chief China economist at UBS Group AG. "And the dollar-yuan story is a crucial part of the capital outflows story."
Around $35 billion in net capital left China in March, bringing total outflows for the first quarter to around $175 billion, according to the Institute of International Finance. The Washington-based group forecasts net capital outflows will ease to $538 billion this year from $674 billion in 2015.
Capital outflows hurt China by draining cash from the economy in a period when growth is under pressure and by forcing the PBOC to defend the yuan. The central bank burned through $513 billion of its foreign-currency stockpile last year.
"There remain risks that outflows could accelerate again if concerns about yuan depreciation intensify again," IIF analysts led by Emre Tiftik wrote in a note on Monday.
Yuan Pledges
To be sure, even if the Fed's statement does take on a hawkish bent, it may not trigger an immediate rush for the exits in China given the improving economy and repeated pledges by authorities not to devalue the yuan. And while some of the departing money has left through illicit channels, such as the use of fake trade invoices, not all of it can be dubbed as capital flight. 
In some ways, China has emerged more resilient to future volatility after its brush with outflows and investor unease last year. One example: Cross-border lending to residents of mainland China fell by $114 billion during the fourth quarter of 2015, or 25 percent from a year earlier. That brought the outstanding amount to $756 billion as of Dec. 31, or $305 billion below the record high reached in September 2014, according to the Bank for International Settlements.
Still, longer-term question marks remain. The growth pickup stems from a renewed borrowing surge at the expense of the kind of reforms need to put the economy on a sustainable footing. That means China may be storing up bigger problems for down the road, said Stephen Jen, co-founder of hedge fund SLJ Macro Partners LLP and a former IMF economist.
"As China toggles between structural reforms and Keynesian stimulus, there will be moments of calm between the storms," Jen said. "We believe we are in between storms."
Before it's here, it's on the Bloomberg Terminal.
LEARN MORE