Grooming
Brazil's Botox Refuge for the Elite—and a Would-Be President
A wrinkle-removal business booms while the nation teeters on the brink of political chaos.
by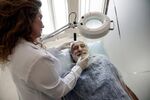 The man who may soon be Brazil's next president, Vice President Michel Temer, treats his sun spots at Dr. Kogos's clinic. He swears by her Vitamin C-infused facial serum. His wife, a small-town beauty pageant contestant who is 43 years his younger, is also a regular client. So are Brazilian TV stars, heiresses, supermodels, and politicians, not to mention American executives and the queen of Sweden.
Ligia Kogos, age deliberately withheld, is the eccentric cosmetic dermatologist who claims ownership of the biggest Botox clinic in Latin America. Allergan Plc, the maker of Botox, confirms she is among its biggest clients. Her facility is located inside a refurbished colonial-style mansion in São Paulo's ritzy Jardins neighborhood, with a back entrance for the most exclusive clientele concerned with prying eyes. Paintings of France, plush zebra chairs, and Marie Claire magazines decorate the lobby. Espresso and diet lemonade are on the house. On a recent afternoon, luxurious SUVs were parked outside, and the doctor's personally curated Spotify list piped Forever Young into the lobby.

It is a muito chique escape from the world outside, which seems to be falling apart at the moment. Brazil is facing the biggest recession in a century and a severe political crisis that has culminated in impeachment proceedings of President Dilma Rousseff; the lower house has voted in favor, and Rousseff could be temporarily removed as Senate deliberations start, meaning Temer would step in. Unemployment is near a six-year high, and inflation is lingering near double digits. Yet it still takes three months to get an appointment with Dr. Kogos.
I first met her at a lunch held by the association of consulesas, or wives of consuls, at a golf club in western São Paulo. It was an oasis of green in this megacity's desert of brutalist concrete. Kogos sprang into action from among the socialites and countesses when one of attendees tripped and bloodied her knee. The doctor helped a chauffeur usher the fallen woman into a tinted SUV.
Kogos likens herself to the late American dermatologist Frederic Brandt, whose adoring patients included Madonna. "He was a very peculiar personality," she said of Brandt, who took his own life in his Miami home last year. "That's why he was a success. The science is the same, but he had a special interest in people."
The 26 employees at Dr. Kogos's clinic handle as many as 100 patients per day. Volume is high, but treatment is personalized. The doctor herself can easily get caught up chatting with clients for hours on end, as she did in our five-hour interview. She sometimes emerges from the clinic only after midnight. Her husband handles her new cosmetics line. The couple met in medical school, where he was her professor, and honeymooned at Disney World.

"She's indecipherable, and in that mystery, she captivates people," said Bruno Raszeja, a law student from Alphaville, a wealthy São Paulo district that local media has compared to Beverly Hills. At age 27, he is considering his first Botox treatment. It's becoming an increasingly common treatment for younger people—many of Kogos's elderly clients are bringing in their children, even teenage grandchildren. "I'm chronologically young," Raszeja said, "but I'm psychologically at a more advanced age."
While Kogos is accommodating with her clients, she maintains firm control of her business. When Allergan tried to get her to participate in a marketing campaign encouraging patients to post photos on social media, she flatly refused. Her somewhat cryptic e-mail response: "No, every mirror has a demon in it."
Kogos describes herself as anti-feminist. She reproached the online backlash to a recent profile in the conservative magazine Veja of her client Marcela Temer, who would become first lady should embattled Brazilian President Dilma Rousseff be forced from office. Facebook users mocked the headline—"Beautiful, Demure and of the Home"—with posts showing their own less maiden-like behavior: bottle-tipping, twerking, cross-dressing, smoking in a bathtub.
"The feminists, the communists, are a group that is very active on the social network. They don't have anything better to do, so they have time for these aggressions," Kogos said. "She is a very young woman who met a very important man. She has a complexion like a teenager."
A self-proclaimed "libertarian monarchist," she believes Brazil's political crisis could be put to an end by breaking the wealthier south and poorer north into separate autonomies. Her views are influenced by her son, who attended a military academy in Vermont and considers Milton Friedman to be a communist. The best way to redistribute wealth, she says, is by getting the rich to spend with tax cuts. 
But she opts to tread lightly when it comes to politics and avoids falling into divisive political discussions around clients. After all, some are from Brazil's political class.
"I leave feeling like a young boy," said Jose Izar, a wealthy lawyer, after a treatment by Kogos. He was sentenced to eight years for participating in a massive kickback scheme as a São Paulo city councilman in the 1990s and only avoided jail time with the help of a famous speech that reminded many fellow council members that they, too, had been suspected of graft. His peers voted against removing him.

While visits from celebrities and socialites win her the headlines, Kogos sees the less-moneyed as her bread and butter at the clinic—and by far the bigger market for her new cosmetics line. She recalls the time she treated the hair loss of a cook for a wealthy Paulista family, and the client was shocked by how reasonable her prices could be. "It's the people wanting to be something else that make the business viable," Kogos says.
She insists that her age forever remain a mystery—"between 20 and eternity," she says—and her clients are routinely advised not to reveal that they've had work done. Her lips are full and her skin stretches snugly across her face. When asked to show off her clinic's Botox stash—a fridge stuffed full with little boxes in a back room—she instead sends for an aide to do it. "That's not very glamorous," she says. Not fit, at least, for Brazil's would-be presidential dermatologist.
Before it's here, it's on the Bloomberg Terminal.
LEARN MORE