Big Ben to Fall Silent as Clockmakers Tackle Water Damage
by
Work to restore Elizabeth Tower to begin early next year

Tower to be repaired, clock faces removed costing $42 million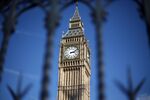 It's the world's most famous clock, an icon of London for a century and a half. It stood firm when the Luftwaffe bombed the Houses of Parliament. Now Big Ben is threatened by two deadlier enemies: water and modern paint.
In early 2017, work will begin on a 29 million-pound ($42 million), three-year project to restore the Elizabeth Tower, as it is formally known. The bells will fall silent as the cast iron roof is repaired and the clock faces are removed. Simply putting the scaffolding on the 96-meter (315 feet) tower will take six months.
"You wouldn't run a motor 24/7 for 150 years without maintaining it," said Paul Roberson, one of the clockmakers who works in the tower, as he stood behind the south clockface, pointing to areas of damage. "There will be times when it will be silent, when the roof is coming off and the workmen are up there."
All the way up the 334 steps to the top of the tower, there are cracks in the stonework. An earlier restoration project used modern plastic-based paint that increases the effects of condensation, causing rust damage. The tower has also shifted, listing 220 millimeters to the northwest.
Water Pools
At the top, there are pools of water and rust is visible everywhere, including on the surface of the 13.5-ton bell that has given the tower its nickname. On the ironwork, a small plate reveals that the structure was built by Jabez James in 1856.
Four microphones in the tower carry the sound of the bells to the BBC for live broadcast at the start of news bulletins. The clock is accurate to within a second, with the clockmakers adding or removing old English pennies from the pendulum to speed or slow it. It is wound -- no longer entirely by hand -- three times a week.
"When this was built, it was cutting-edge technology," said Adam Watrobski, the architect overseeing the project. When the clock began chiming, in 1859, it helped to move London to the idea of keeping one standard time, he said. "It had a fantastically important effect for disseminating the idea of Greenwich Mean Time."
The entire Palace of Westminster is in urgent need of repair, work that could cost 5.7 billion pounds and take up to four decades. While lawmakers debate the cost and practicalities of that, the work on saving the most famous bit of the building will go ahead.
The project will also allow modernization. A lift will be put in, along with tea-making facilities and a toilet for the clock's maintenance crew. And the Ayrton Light, originally a gas installation at the very top of the tower to allow Queen Victoria to see if Parliament was sitting, will be brought into the 21st century with LED fittings.
Before it's here, it's on the Bloomberg Terminal.
LEARN MORE