Ackman to Testify at Senate Drug-Pricing Hearing
Kristen Hallam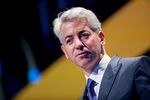 Bill Ackman, the billionaire activist investor, will testify before a Senate panel Wednesday on prescription-drug pricing as lawmakers probe practices at troubled Valeant Pharmaceuticals International Inc.
Valeant's outgoing Chief Executive Officer Mike Pearson and board member Howard Schiller will join Ackman, whose Pershing Square Capital Management LP has become one of Valeant's biggest holders. Ackman also sits on Valeant's board.
The hearing of the Senate Special Committee on Aging is the third in a series focused on "sudden, aggressive price spikes of decades-old prescription drugs," according to an e-mailed statement. Valeant is one of four drugmakers under investigation by the panel, which is probing practices including acquiring and then significantly raising the list price of older medicines. Pearson was deposed for nine hours by the committee last week.
Ackman, once one of Pearson's biggest backers, withdrew his support after the company faced mounting troubles in recent months, with controversies over its business practices, accounting and drug pricing last year. The investor criticized Pearson for failing to communicate with investors and the public about the company's challenges.
Valeant said in March that Pearson would leave the drugmaker once a replacement was found, part of a broader overhaul that included adding Ackman to its board. Joe Papa will take the job next month after leaving drugmaker Perrigo Co.