Former Bank of Japan Policymaker Tells Kuroda Not to Rush
by and
Nakahara says board should first gauge effect of negative rate

Abe probably isn't waiting for the BOJ to act now, he says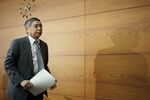 On the eve of this week's highly anticipated Bank of Japan gathering, an influential former policy maker cautioned his successors against rushing to make changes in an environment they can't control.
Nobuyuki Nakahara, an intellectual father of the BOJ's first stab at quantitative easing in 2001 when he was on the board, recommended against adding stimulus now. He said the central bank should take more time to gauge the impact of the negative rate strategy it adopted in January.
"The global economic environment is bad and there is a limit to how much a nation can do with its own policy," Nakahara, 81, said in an interview in Tokyo on Tuesday. "If a country doesn't conduct policy within its limits, it will overreach."
Nakahara, who is among a close circle of economic advisers to Shinzo Abe, said the prime minister probably isn't waiting for the BOJ to act at the two-day meeting that starts Wednesday. He added that the government should postpone an increase in Japan's sales tax scheduled for April 2017; a previous increase from 5 percent to 8 percent sent Japan into a recession.
The BOJ's meeting, which will conclude around midday in Tokyo on Thursday, will follow the outcome of a U.S. Federal Reserve gathering and a slew of domestic economic data to be released in Tokyo. A slim majority of analysts surveyed by Bloomberg predicts action from the BOJ this week. Inflation has been hovering near zero, growth is well below the government's target and gains in the yen threaten to undermine export earnings.
Currency Policy
Nakahara also said the yen at around 110 against the dollar is a comfortable level for Japan's economy; it strengthened 0.3 percent to 110.82 at 6:03 p.m. on Tuesday in Tokyo. "The government will have to intervene if the yen breaks above 100 yen, but I don't think that will happen," he said. "If movement in the yen becomes extreme, then the government should intervene."
The yen has strengthened about 8.5 percent this year, even after weakening sharply following a report on April 22 that the BOJ may consider helping bank lending by offering a negative rate on some loans.
The lackluster state of the economy led another of Abe's economic advisers, Etsuro Honda, to say on Tuesday that this week's meeting is the time for the BOJ to act, if it wants to be preemptive. Further stimulus, Honda said, could include expanding purchases of bonds and exchange-traded funds while leaving the negative rate unchanged.
Honda's View
"I want them to act in the first half of this year while I don't know if they will choose April, June or hold an emergency meeting in May if market volatility gets higher," Honda said. "If they want to be preemptive, it's better to take action in April."
Nakahara, who was a friend of Abe's father, advised a more gradual approach. With one of Japan's so-called core core inflation measure now around 0.8 percent, he said the central bank is doing what it can.
In terms of the plan to hike the sales tax from 8 percent to 10 percent, Nakahara suggested an increase of 1 percent a year or every two years instead.
"The economic environment isn't very favorable for Japan's economy," he said. "The economy will founder on the tax unless it's raised very carefully."
Before it's here, it's on the Bloomberg Terminal.
LEARN MORE