`Fugitive' Mallya Fears Arrest in India as Lenders Seek Dues
by and
Attorney General tells court Mallya is playing `hide and seek'

Lawyer tells Supreme Court Mallya may not return to India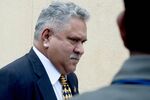 India labeled Vijay Mallya a "fugitive" while the businessman's lawyers said his creditors only want him arrested in heated court arguments over a case that is set to test the government's resolve to go after defaulters and recover unpaid dues.
At a hearing in the Supreme Court on Tuesday, Attorney General Mukul Rohatgi said the founder of the collapsed Kingfisher Airlines Ltd. left India surreptitiously without paying his creditors. The ex-billionaire's lawyer, C.S. Vaidyanathan, argued Mallya may not return as he fears arrest, setting the stage for a prolonged legal standoff between banks, the government and the lawmaker who owes about 91 billion rupees ($1.37 billion).
"Battle lines are being drawn, with the government resorting to brass-knuckle tactics to bring back Mallya," said Pooja Dutta, managing partner at Mumbai-based Astute Law. "It remains to be seen how long the standoff will continue."
Tihar Jail
A group of lenders told the court it won't settle for anything short of full payment after rejecting Mallya's proposal for a one-time negotiated deal. The tycoon, who earlier this year said he was moving to England to be closer to his children, has said he isn't a "wilful defaulter" and was making efforts "in all sincerity" to pay up. The foreign ministry revoked his diplomatic passport and an ethics panel threatened to expel him from the upper house of parliament, where he's been a member for almost 12 years.
Last week, he offered to deposit $240 million with the Supreme Court to show his intent to repay debt. The court on Tuesday ordered him to disclose all his assets, local and overseas, to lenders.
"He is a fugitive," Rohatgi argued. "He left India without paying the banks."
Two Terms
The man at the center of India's battle against soured loans was ranked the 45th-richest Indian by Forbes in 2012, with a net worth of $1 billion. He was earlier elected to the Rajya Sabha in 2002 and again in 2010, both as an independent. His current term is scheduled to end on June 30. Sumanto Bhattacharya, a spokesman for Mallya and his UB Group, declined to comment.
Lenders are under pressure to recover dues after the Reserve Bank of India, grappling with 8 trillion rupees of soured debt, ordered them to clean up their balance sheets by March 2017 by increasing provisioning and selling off stressed loans.
Mallya previously offered 40 billion rupees by the end of September and a further 20 billion rupees if United Breweries Holdings Ltd., the parent of Kingfisher, wins a lawsuit alleging defective engines from International Aero Engines AG contributed to the carrier's collapse. Lenders rejected the 60 billion-rupee settlement offer.
The foreign ministry said April 22 that it was seeking legal advice on Mallya's extradition a few weeks after Rohatgi said he had left India. As a member of the upper house of India's parliament, he had a diplomatic passport.
"The moment he comes, he will be sent to Tihar jail," Vaidyanathan told the court, referring to South Asia's biggest prison complex in New Delhi. "He wants a negotiated settlement."
Show Cause
The Enforcement Directorate, a specialized financial investigation agency focused on foreign exchange and anti-money laundering laws, will pursue all legal processes, Karnal Singh, its chairman said last week.
"We don't routinely comment on individual cases," the U.K. Home Office said in a statement. "As a matter of longstanding policy and practice the U.K. will neither confirm nor deny that an extradition request has been made or received until such time an arrest has been made in relation to that request."
An ethics panel of the house issued a "show cause" notice on Monday, giving Mallya a week to explain why his membership shouldn't be canceled, said Karan Singh, chairman of the committee. The measure came a day after the foreign ministry revoked his passport. The government says he owes banks about 91 billion rupees.
Mallya, 60, has maintained that Kingfisher was an "unfortunate commercial failure" because of macroeconomic factors and government policies. He has sparred with local media for portraying him as the poster boy for the nation's bad loans.
After taking over a beer and liquor empire from his father in the 1980s, he started Kingfisher Airlines in 2005, which was one of India's leading carriers until it was grounded in 2012 amid mounting debt.
Before it's here, it's on the Bloomberg Terminal.
LEARN MORE