Junior Doctors in England Step Up Strike Over New Contract
by
Strikers refuse to carry out emergency care for first time

Health secretary Hunt says 12,500 operations will be canceled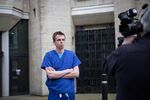 Junior doctors in the state-run National Health Service in England started a two-day all-out strike on Tuesday morning in protest at a new contract being imposed by Health Secretary Jeremy Hunt.
The doctors -- medical-school graduates training to be consultants or family practitioners -- are refusing to carry out emergency care for the first time in an increasingly bitter dispute sparked by changes to their pay and conditions. The British Medical Association, which represents the doctors, says the new contract will threaten patient safety and force staff to work unsocial hours without compensation. Senior doctors are stepping in to cover for their colleagues, the BMA said.
The changes are necessary to deliver the governing Conservative Party's election pledge to establish a "seven-day-a-week NHS" and the BMA doesn't have the right to "veto" that commitment, Hunt told lawmakers in Parliament Monday. He rejected an opposition Labour Party proposal at the weekend that the new contract should be introduced in pilot areas to test its effect on patient care.
'Bleak Day'
"It is a very, very bleak day for the NHS when something like this happens," Hunt told BBC Radio 4's "Today" program on Tuesday. "At the heart of this is that you can't choose which day of the week you are ill."
The health secretary told lawmakers the strike will lead to the cancellation of 110,000 out-patient appointments and 12,500 operations. In his BBC interview, he said it ultimately boils down to a dispute over "payment for antisocial hours, and in particular pay on Saturdays." He accused the BMA of "absolutely refusing to compromise" after 75 meetings over more than three years.
"Jeremy Hunt's handling of this dispute has been utterly shambolic," Labour's health spokeswoman, Heidi Alexander, said in an e-mailed statement. "I urge Jeremy Hunt to think again, get back round the negotiating table and do what is right for patients."
The strike started at 8 a.m. and runs to 5 p.m. on Tuesday and will cover the same hours on Wednesday, the BMA said on its website.
An Ipsos Mori poll for the BBC found that 57 percent of adults in England back the strike, with 26 percent opposed. The polling company questioned 861 respondents from April 22 to April 24 and didn't specify a margin of error.
Before it's here, it's on the Bloomberg Terminal.
LEARN MORE