Tom Lee: The S&P 500 Is in a Great Position to Surge to New All-Time Highs
The hated rally remains hated.
by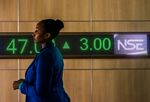 Stocks usually go up.
That bit of conventional wisdom is conspicuous by its omission among market participants these days.
Between Brexit, the seeming lack of coordination from OPEC, minuscule U.S. first-quarter growth, and sputtering retail sales, stocks still have to climb a substantial "wall of worry," according to Fundstrat Global Advisors LLC Managing Partner Thomas Lee.
"Investors remain leery as the S&P 500 nears all-time highs, viewing the rise in equities as disconnected dangerously from underlying fundamentals," he wrote in a note to clients.
However, the strategist pointed to four reasons why U.S. stocks won't stall before setting new all-time highs: the drop-off in the U.S. dollar, a bottom in oil, attractive relative valuations thanks to ultra-low bond yields in other G3 nations, and inflows from retail investors.
This macroeconomic backdrop, market internals, and likely flow dynamics are supportive of a continued advance in equities, in stark contrast to conditions a little less than a year ago.
"This is almost the exact opposite seen in May 2015 when the new highs then failed," explained Lee. "We expect to see new highs by the end of May and the equities to decisively sustain above that."

Just two weeks ago, options markets implied that the odds of the S&P 500 rising 10 percent in the next three months were less than 1 percent. The benchmark U.S. equity index has since proceeded to march two percent higher, building on gains made since its mid-February low.
And as Brean Capital LLC Head of Macro Strategy Peter Tchir notes, it's still contrarian to expect risk assets to continue to perform well.
"I am very nervous sending out this report, as the notion of VIX going lower, or investment grade credit spreads going tighter from here seems almost 'crazy' but try as I might, I still find the market far too tilted to bearish and underweight trades," he wrote.
Tchir suggested that the slow grind higher for stocks could continue, or that capitulation from shorts could spark an abrupt move to the upside.
A dovish Federal Reserve fostering a steeper yield curve that benefits banks, enhanced easing from the Bank of Japan, low expectations for earnings season, and a pick-up in corporate share repurchases could be setting the stage for implied volatility to further retreat, according to the strategist, which would catch the market thoroughly offside.
"I quite expect that soon my writings will be heavily skewed to the bearish side, but for now, I think market sentiment, market expectations, and market positioning all provide for an easier time to continue to rally, than to sell off," concludes Tchir.
Before it's here, it's on the Bloomberg Terminal.
LEARN MORE