Tokyo Picks New Logo for 2020 Olympics After Plagiarism Debacle
By
First emblem design scrapped after plagiarism allegations

Debate over stadium, logo has plagued 2020 Tokyo Games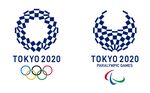 Seven months after dropping its initial design amid accusations of plagiarism, the organizers of the 2020 Tokyo Olympics on Monday selected a new logo for the games.
The "Harmonized chequered emblem" logo is based on "ichimatsu moyo" design from Japan's Edo era (1603-1868), a period of shogunate rule and isolationist foreign policy. The indigo-colored design by Tokyo-based artist Asao Tokolo is made of three rectangular shapes that represent "different countries, cultures and ways of thinking," according to the organizing committee.
The original logo by Kenjiro Sano, was rescinded in September last year after it was alleged to have plagiarized the emblem of a Belgian playhouse. Sano has said his work is original.
The construction of a new main stadium for the games has also stirred controversy and public anger.
The original futuristic design by the late British-Iraqi architect Zaha Hadid was abandoned last July when construction costs ballooned to 252 billion yen ($2.3 billion) from an original estimate of 163 billion yen. The organizers chose Kengo Kuma's new design in December, which is estimated to cost 149 billion yen and is slated for completion by November 2019.