business
Spain Political Deadlock May Spur New Elections and Market Woes
Here's what to watch.
By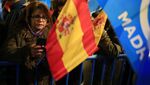 The deadlock between Spanish political parties makes fresh elections almost inevitable as it's highly unlikely a government can be formed before the May 2 deadline, analysts say.
With polls still suggesting no one party will secure a majority, a fresh vote risks spurring market volatility and wider spreads, especially as Spain will go to the polls just days after the U.K. referendum on EU membership, they add.
Who's who?
The People's Party or Partido Popular (PP) came first in the election but its share of seats fell to 123 from 186, well short of the 176 seats needed for a majority. The party's standing has been wracked by a series of scandals but it still retains pole position in recent voter surveys with 126 seats, or 29.5 percent in a poll for El Mundo and 27.7 percent in one for El Pais.
The Socialist party (PSOE), which took second place in December with 90 seats, signed a pact with Albert Rivera's Ciudadanos (Citizens) party, which came fourth in the general election with 40 seats. Talks between the two and anti-establishment party Podemos to try and form a government came to nothing. Meanwhile, PSOE's polling shows it holding on to second place with 22 percent and 21 percent of the vote.
Podemos overcame a mid-year slump to claim 69 seats last time around, challenging the Socialists' traditional monopoly over progressive voters. While polls earlier this month showed it ceding third place to Ciudadanos, the most recent survey for El Mundo shows it with 18.6 percent of the vote and a shared list with the United Left getting the backing of 21.5 percent of voters, a shade shy of second place.
What's the latest?
Spanish courts are advancing more than two dozen criminal probes into PP officials and the party's financing. The party's acting industry minister quit over his links to an offshore company listed in the Panama leaks. El Pais, Spain's leading daily, said in an editorial the PP needs to "renew itself thoroughly" without Rajoy.
Corruption allegations buffeting Spain's political class will boost support for Podemos, the group's polling chief said in an interview in parliament. Podemos balloted members this month asking if they support either PSOE-Ciudadanos proposal or a progressive govt with PSOE, United Left -- members voted against the first option. Meanwhile, Ciudadanos sees little room for agreement with Podemos.
Spain sets 2016 deficit target for regions at 0.7 percent of their GDP versus 0.3 percent previously, after saying the nation's 2016 deficit target had been increased to 3.6 percent compared with 2.8 percent agreed with the European union. That comes as Catalan President Carles Puigdemont says his region is still working toward secession.
Ratings company Fitch says lack of clarity over the composition of Spain's next government adds to uncertainty over fiscal consolidation and today said it expects growth to slow this year relative to 2015.
What's next?
King Felipe VI began meetings with party leaders today to decide if he can propose a candidate for prime minister with sufficient parliamentary support. Meetings are due to finish tomorrow.
If the country still has no government by May 2, new elections will be called and will take place on June 26.
The chance parties will reach a last-minute deal to form a government remains slim, Teneo analyst Antonio Barroso says. How much the result differs from December will depend on how the parties manage passing the buck on the failure to form a government. Podemos's ability to cut a deal with other left-wing forces and internal turmoil within main parties will also be factors, Barroso says.
What's the likely outcome?
Barclays analysts Apolline Menut and Antonio Garcia Pascual say that while polls suggest Parliament would remain fragmented, expect prompt government ratification, even in the case of a minority one, amid high pressure on main parties for a quick agreement. Podemos looks unlikely to be part of the next government, they say in a client note.
Eurasia analyst Federico Santi says pressure on party leaders to reach agreement will be higher and the costs of entering politically awkward alliances will be lower after a new election. That could produce a fragile coalition that may be short-lived and not particularly effective. A less likely outcome would be a right-wing majority comprising the Popular Party and Ciudadanos, Santi says.
There's not much clarity on what will follow after a fresh vote is called, including what political alliances will be formed, BofAML's Ruben Segura-Cayuela says in an interview. Spain's electoral system isn't perfectly proportional and a leftist outcome such as that in Portugal can't be ruled out. Podemos could reach agreement with traditional left parties such as Unidad Popular and come second in any new vote, Segura-Cayuela says, adding that polls have consistently underestimated support for Podemos and overestimated backing for Ciudadanos.
Teneo's Barroso suggests there are obstacles to a leftist government given such an agreement could alienate some of their respective supporters.
What does it mean for markets?
The spread between Spanish and German 10-year yields stands at 138 basis points versus a year-to-date range of about 113 basis points to 159 basis points. Spain's IBEX stock index has fallen 3.7 percent so far this year, but has outperformed Italy's MIB 30 and Greece's AEX.
Spanish bonds may not reflect the risks related to the country's politics until the result of any elections are known, BofAML's Segura-Cayuela says, adding that investors have reacted late to such things in the past.
Barclays analysts agree, saying Spanish assets may underperform as downside risks have risen significantly due to factors including political uncertainty. This is especially true given U.K. exit risk may keep markets on high alert, they add.
UBS analysts say entering new spread tightening positions is unattractive near term, given rising event risks. Those risks, though not UBS's baseline scenario, include a U.K. exit from the European Union and formation of a leftist Spanish government.
Meanwhile, Deutsche Asset Management cut euro zone and German equities to neutral to reflect tensions including the migration crisis and radicalization of the political landscape, as well as risk of a U.K. exit from the EU.
However, JPMorgan analyst Marco Protopapa says any drag on growth from political uncertainty is likely to be short-lived so long as it isn't accompanied by stress in the sovereign bond market.
The ECB's unconventional policy measures, which now include generous support for the banking system, act as a powerful lid on the sovereign cost of funding, Protopapa writes. JPMorgan rates strategists stay long 10-year Spain versus Germany, reflecting ECB support and a robust euro-area growth outlook.
Commerzbank analysts say a supportive technical backdrop for European government bonds in the next two weeks may turn, as six consecutive weeks of positive net supply for a cumulative €85 billion may follow. JPMorgan Asset Management's Iain Stealey remains overweight on Spanish and Italian bonds based on valuation and yield pick up, he says in an interview.
Meanwhile, Pimco trimmed its exposure to reflect less attractive valuations, though it remains "modestly overweight" on European peripheral sovereigns including Italy and Spain.
Before it's here, it's on the Bloomberg Terminal.
LEARN MORE