Pound Shows How Brexit Concerns Are Starting to Look Overdone
by and
Implied three-month volatility tumbles by most since 2008

Speculators' bets on sterling weakness are highest in 3 years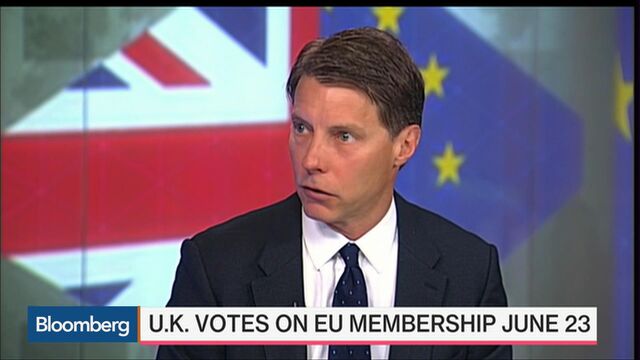 It's as if a weight is lifting from the shoulders of pound traders.
A measure of risks to sterling fell Tuesday by the most since 2008, surpassing the drop in the aftermath of last year's general election, when the political turmoil of a hung parliament was narrowly avoided. And though the June 23 vote on Britain's membership of the European Union has made the pound the developed world's worst-performing currency in 2016, during the past week it's been the biggest gainer.

The U.K. currency has been a barometer of sentiment throughout the referendum debate, sliding to a seven-year low versus the dollar about a week after the date of the vote was announced, and now rallying as the "remain" camp gains traction. These latest moves point to renewed optimism that a Brexit will be avoided, and suggest traders are reassessing whether they went too hard, too fast in betting against sterling.
"It's essentially a change in perception with regards to the probability of a Brexit," said Richard Benson, managing director and co-head of portfolio investment in London at Millennium Global Investments, which manages $16 billion. "The move is not so much people taking profit, it's people stopping out their losses in sterling positions."
Speculators' Risk
The pound would fall 15 percent from current levels if the U.K. voted to leave the EU, Benson said. That would mean a drop to about $1.23, after it jumped to an almost three-month high of $1.4639 on Tuesday. He added that a decision to remain would result in a 3 percent to 5 percent bounce.
QuickTake Will Britain Leave the EU?
There's a lot at stake if sterling continues its gains. Hedge funds and other large speculators pushed net bets on a weaker pound to an almost three-year high of 55,152 contracts in the week through April 19, according to the Commodity Futures Trading Commission in Washington. As recently as November, they were bullish on the U.K. currency.
Much else has changed, particularly since the official referendum campaign started on April 15. Before then, a series of polls showed the two sides of the debate virtually neck and neck, with as many as one in three people undecided about which way to vote.
In the last week, pro-Europeans have taken the lead, with the Bloomberg Brexit Tracker putting the probability of the U.K. quitting the EU at about 20 percent. An ORB/Telegraph poll published Tuesday indicated that 51 percent of Britons would vote to stay, with 43 percent wanting to leave.
Brexit or Bremain?
"The pound is outperforming on Bremain," said Neil Jones, head of hedge-fund sales at Mizuho Bank Ltd. in London. "We've become so fixated on what will happen if Brexit occurs, we've forgotten whether Brexit will actually occur at all."
Jones sees sterling staying above $1.45 and possibly climbing to $1.50 as the risk of leaving the world's largest single market diminishes.
The pound is also recovering against other currencies. It strengthened for an eighth day versus the euro in its longest winning run since June. And a trade-weighted sterling index has climbed more than 4 percent since reaching a 2 1/2-year low on April 7.
These changes are reflected in how traders and investors are protecting themselves from price swings and losses.
Hedging Risk
Three-month implied sterling-dollar volatility fell 130 basis points on Tuesday to 12.5 percent, its biggest one-day drop since December 2008. That followed a 100 basis-point slide on Monday, the most since May 8, 2015 -- the day after the general election. The measure reached a six-year high of 16.4 percent on April 7.
While two-month volatility jumped to 13.6 percent as the measure covered the referendum date for the first time, that's lower than the peak reached by the three-month gauge.
The premium on three-month options hedging against sterling declines narrowed to 3.6 percentage points from 4.8 percentage points on April 11, which was the biggest since Bloomberg began compiling the data in 2003.
"It makes sense to take some risk off the table" if traders made money on sterling's losses in the first quarter, said Grant Peterkin, a money manager in Geneva at Lombard Odier Investment , which oversees about $164 billion. "But volatility in sterling will remain as we head toward the vote."
Before it's here, it's on the Bloomberg Terminal.
LEARN MORE