business
Philips Slumps as Lighting IPO Looks Increasingly Likely
By
Company says share sale could move ahead as markets improve

Philips reports quarterly results that beat analyst forecast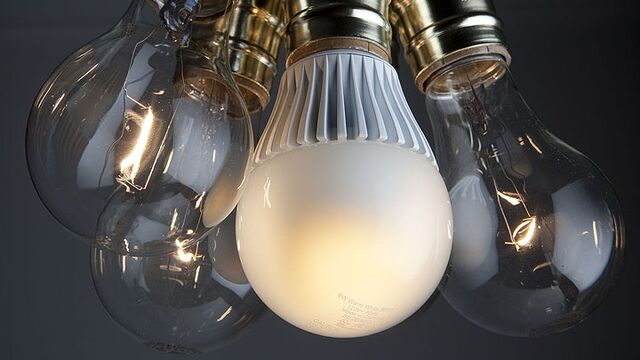 Royal Philips NV shares slumped the most in eight months on prospects the Dutch manufacturer will sell its lighting division through an initial public offering, earning less than from a private sale, which has so far been unsuccessful.
An improvement in stock market conditions during the past couple of months means an IPO "increasingly appears a more likely outcome," Philips said Monday in an earnings statement, adding that a decision will be made shortly after a conclusion has been reached on all proposals in the alternative sale process.
"The potential of an IPO would result in lower expectations about the proceeds," Actiam NV portfolio manager Corne van Zeijl said by phone. Private equity investors don't appear to be very interested in the unit, meaning Philips won't net a top price for the division, he said.
This is the first time Chief Executive Officer Frans van Houten has said publicly that Philips may opt for an IPO over a private sale of the lighting division, which had $8.3 billion in annual sales and makes products such as street lights. Philips, which will focus on health care, has so far kept its options open on how the sale will be carried out, although it named six additional banks and filed draft documents for a share sale, people familiar with the matter said earlier this month.
The shares fell as much as 5.5 percent, the most since Aug. 24, and traded 5.2 percent lower at 23.84 euros at 11:50 a.m. in Amsterdam.

Should Philips push ahead with an IPO, it's unclear whether the company would sell a majority stake, said Kepler Cheuvreux analyst Peter Olofsen. It may be problematic to target investors focused on health technology if an "important part" of its valuation remains in lighting.
Philips should ideally sell the whole business, he said.
Philips has read all the proposals for a private sale of the lighting division and still needs "to do a bit of work in order to come to a conclusion," Van Houten said on a call with journalists. The process requires a broad evaluation, including regulatory constraints and what's best for the future of the unit, he said.
When this is done, a decision in favor of a share listing would mean an IPO could happen very fast, the CEO said on a later call with investors.
Lumileds
Philips is also selling its lighting components business called Lumileds after a planned $2.8 billion sale to a consortium led by GO Scale Capital of China was blocked by U.S. regulators. Details on that sale aren't expected before the second half of the year, Van Houten said in an interview with Bloomberg TV.
"Philips is actively engaging with other parties that have expressed an interest in the business," according to the statement.
The comments on the lighting sale came as Philips reported a 14 percent rise in adjusted earnings before interest, taxes and amortization to 374 million euros ($420 million), higher than the 362 million euros forecast by analysts surveyed by Bloomberg. The company confirmed its outlook for the full year. Net income fell to 37 million euros from 100 million euros a year earlier.
Costs related to the separation of the lighting unit were 52 million euros in the first quarter and are expected to range between 200 and 225 million euros for the year, the company said.
Adjusted ebita at the lighting division, which has been the foundation of the 125-year-old company, rose 7 percent to 121 million euros on double-digit growth in LED and home lighting, the company said.
At the company's personal health division, adjusted ebita increased 16 percent in the first quarter while the improvement was more muted for its operations that make and sell diagnostic machines like ultrasounds.
(
Adds analyst comment in third paragraph.
)
Before it's here, it's on the Bloomberg Terminal.
LEARN MORE