On the Streets of Kimmy Schmidt's Gritty, Glittering New York
Bloomberg News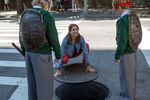 Subscribe to the City of Scenes podcast on iTunes
Subscribe to the City of Scenes podcast on Pocket Casts
Unbreakable Kimmy Schmidt is the somehow very funny story of a young woman who starts out in New York after spending 15 years in a bunker as the hostage of a messianic nutcase. Robert Carlock, who created the series with Tina Fey after teaming with Fey to produce the cult-favorite NBC series 30 Rock, calls it "Elf meets Silence of the Lambs, and Elf wins."
Kimmy (Ellie Kemper) experiences the city with curiosity, delight, and outrage in equal measure. Carlock, who has written for Saturday Night Live and Friends, calls her an "infectious bubble of brightness and color, a contrast, often, to the grayness of New York." At the same time, he says of the city, "where else would you rather live?" 
He describes his signature style with Fey as "dense, fast, joke-packed dialogue." While that may be partly inspired by the breakneck speed of New York, he says, on 30 Rock it was initially driven by a fear that the show could be canceled at any moment, so they needed to get "everything and the kitchen sink into every episode."
Here, as the Tribeca Film Festival winds down its celebration of its 15th year, Carlock talks with Bloomberg Associates' Katherine Oliver (@kolivernyc) and Vulture's Jesse David Fox (@JesseDavidFox) for the final episode of The City of Scenes, four conversations with TV and film creators working on location in New York.
"It's funny," Carlock says. "You can write a sentence, and then it gets a lot more complicated than you thought it would be." For one episode of Kimmy, now in its second season on Netflix, that meant constructing a fake sewer manhole with the help of a green screen for when characters needed to go underground. 
The worlds of 30 Rock and Kimmy are defined by the antics and run-ins of their quintessentially New York characters. You can't cast that in L.A., Carlock says. In New York, he says, "you get people coming in who look like people."
Before it's here, it's on the Bloomberg Terminal.
LEARN MORE