South Korea's Growth Slows as Investment, Consumption Wane
by
Gross domestic product expansion slows for two quarters

BOK official says consumption showing recovery from March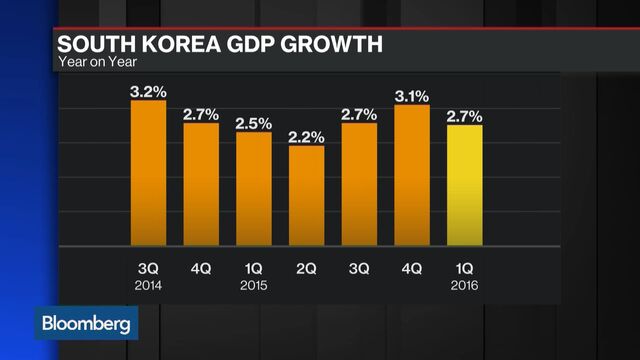 South Korea's economy slowed in the first quarter as sluggishness in exports weighed on corporate investment and consumers cut back on spending.
Gross domestic product rose 0.4 percent from the previous quarter, the Bank of Korea said Tuesday, matching the increase that was forecast by analysts surveyed by Bloomberg. The economy expanded by 2.7 percent from a year earlier.
The pace of economic growth slowed even as the government front-loaded fiscal spending and resumed consumption tax discounts on cars. The central bank cut its GDP forecast for 2016 to 2.8 percent on April 19, citing weakness in the first three months of the year. Governor Lee Ju Yeol, whose board held rates at a record low, said the economy should be on the road to gradual improvement this quarter.
"South Korea's growth is closely related with exports volume, which slumped earlier this year, also weighing on corporate investment," said An Ki Tae, an economist for NH Investment & Securities Co. in Seoul. "The decline in consumption looks mainly due to the base effect of spending gains in the previous quarter."
GDP Components
Facilities investment fell 5.9 percent from the previous quarter, according to Tuesday's data, while exports dropped 1.7 percent. Private consumption decreased 0.3 percent. Government spending was up 1.3 percent and construction investment grew 5.9 percent.
Jeon Seung Cheol, a director general at the BOK, said in a briefing that facilities investment fell in the machinery and transportation equipment sectors, and slower investment may weigh on future production.
He said consumption declined as the government suspended consumption-tax discounts earlier this year before resuming them in February, and also there was a base effect from spending gains in the fourth quarter of 2015. Consumption is showing recovery from March because of new products released in cars and mobile phones, Jeon said.
South Korea's exports have fallen for 15 consecutive months and are poised to decline again this month, based on April 1-20 figures released by the customs office. Still, policy makers have started to point to some positive signals for the economy, such as an improvement in factory output data.
The central bank's GDP growth forecast for this year is slightly higher than the 2.7 percent projected by economists surveyed by Bloomberg. The government is even more optimistic, with Finance Minister Yoo Il Ho saying in an interview this month that South Korea has room to lower borrowing costs and issue more debt if such expansionary policies are needed to help the economy achieve its 3.1 percent growth target.
Won, Bonds
The won fell for a third day, dropping 0.3 percent to 1,151.01 a dollar, data compiled by Bloomberg show. The 10-year government bond yield slipped one basis point to 1.82 percent, according to Korea Exchange prices.  
Economists are almost evenly split over the odds for a rate cut this year, with 12 of 23 surveyed by Bloomberg expecting at least one reduction. Ten forecast no change, while Moody's Analytics Inc. was the only forecaster to predict a 25 basis-point increase.
Citigroup Inc. wrote in a report on Tuesday after the GDP release that while it expects a rate cut by the BOK in the third quarter, it would not be surprised if this comes earlier given drags on domestic demand and the government expediting corporate restructuring in fragile sectors.
Before it's here, it's on the Bloomberg Terminal.
LEARN MORE