What's In Saudi Arabia's Blueprint for Life After Oil?
by , , , and
Aramco's value could exceed $2 trillion: Deputy Crown Prince

Plan seeks to raise non-oil revenue, create wealth fund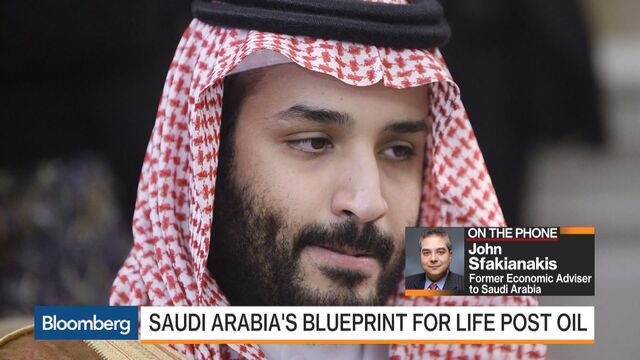 Saudi Arabia's Deputy Crown Prince Mohammed bin Salman unveiled his "Saudi Vision 2030" to reduce the kingdom's reliance on oil.
The 84-page blueprint, approved by King Salman, includes plans to sell less than 5 percent of Saudi Arabian Oil Co., or Aramco, the creation of the world's largest sovereign wealth fund and raising non-oil revenue.
QuickTake Saudi Arabia's Strains
Here's a guide to the main elements of the plan, announced by Prince Mohammed on Monday during a press conference at the royal court in Riyadh and an interview with Saudi-owned Arabiya television. The prince had disclosed some of the proposals in two interviews with Bloomberg News.
Aramco IPO:
* While Aramco's valuation hasn't been completed, the company is expected to be worth more than $2 trillion, the prince said, making the planned initial public offering potentially the world's biggest.
* "Aramco's IPO would have several benefits, the most important of which is transparency," he said. "Aramco would have to announce its earnings every quarter. It will be observed by all Saudi banks, all analysts and Saudi thinkers as well as all international banks and think tanks."
* "The size of Aramco is really enormous, not only in relation to the Saudi market but even to the international market," he said. "Therefore we are trying to open windows, the most important in the American market, to trade Aramco. We will work on the procedures in the coming period."
* A blueprint for Aramco's future will be announced within six months, the prince said. "The number of companies that will be IPOed from Aramco is not yet determined, but work is developing on it and during the next six months a completely separate program for Aramco, its subsidiaries and the future areas planned for it will be announced."


Public Investment Fund:
* Saudi Arabia will create the world's largest sovereign wealth fund to hold state assets, including Aramco and real-estate, said the prince. Land will be developed and companies owning these projects listed. The fund will be headquartered in King Abdullah Financial District.
* "There are non-Aramco assets that will come under the fund with a value that could reach $300 billion, in addition to the current value of the fund which is about $200 billion," the prince said. "In this way we will have a Public Investment Fund with a size exceeding $2 trillion, approaching $3 trillion."
The $2 Trillion Project to Get Saudi Arabia's Economy Off Oil
Biggest Ever Saudi Overhaul Targets $100 Billion of Revenue
Non-oil Economy:
* The kingdom plans to raise non-oil government revenue from 163 billion riyals to 1 trillion riyals ($266.6 billion) by 2030. The prince said that the increase will come from investments; developing "assets that have not been exploited;" and structural reforms, including better targeting of subsidies, a green card-like program and imposing fees on the sale of luxury items, tobacco, soda and energy drinks.
* Saudi Arabia also aims to generate 35 percent of economic output from small and medium enterprises, up from 20 percent, and diversify the kingdom's exports.
* Saudi Arabia wants to become one of the 15 largest economies in the world by 2030. However, the prince predicted that it will take time to see the reforms translate into growth. "We don't expect it in the early years because they are years of reform, but after the years of reform we will expect very high growth," he said.
Biggest Ever Saudi Overhaul Targets $100 Billion of Revenue
Saudi Prince Says Kingdom Working to Soften Subsidy Cut Blow

---
Special Report: Where Next for Saudi Arabia?

Military Industry:
* Saudi Arabia plans to set up a holding company by the end of next year for defense industries as it seeks to meet more of its military needs domestically. The kingdom will also restructure several contracts and tackle wasteful spending in the defense industry.
* "Our aim is to localize over 50 percent of military equipment spending. We have already begun developing less complex industries such as those providing spare parts, armored vehicles and basic ammunition," according to the vision's document. "We will expand this initiative to higher value and more complex equipment such as military aircraft."
Saudi Arabia Plans Defense Holding Company Under Wealth Fund
Foreign Investment:


* The government aims to increase foreign direct investment from 3.8 percent of economic output to 5.7 percent by 2030.
* To accomplish its goals, Saudi Arabia will need "an advanced financial and capital market open to the world," according to the vision document. "To this end, we will continue facilitating access to investing and trading in the stock markets. We will smooth the process of listing private Saudi companies and state-owned enterprises, including Aramco."
Special Zones:
* King Abdullah Financial District, a $10 billion financial hub under construction, will be transformed into a "special zone that has competitive regulations and procedures, with visa exemptions and directly connected to the King Khaled International Airport," according to the vision document.
* The government will also establish other special zones in logistics, tourism, industry and finance with "special commercial regulations to boost investment opportunities," the document says.
* The government will work to "salvage" and "revamp" economic cities projects executed over the past decade that "did not realize their potential."
Saudi $10 Billion Financial District Is Missing One Thing: Banks
Social goals:

* The kingdom wants to reduce unemployment among Saudis to 7 percent from 11.6 percent.
* Revamping the education system will be a key component of the plan, the prince said. "The educational curriculum and university majors will be restructured to mesh with the vision, while preserving our Islamic values, our Arab values and our national values," he said.
* The kingdom plans to raise home-ownership rate to 52 percent by 2020 from 47 percent currently.
* The government wants to increase women's participation in the workforce from 22 percent to 30 percent. "Without a doubt a woman's work is very important, and she is half of the community and she must be effective and productive," the prince said.
* On women's rights, the prince said: "We've come a very long way. I think a shorter way remains, but without a doubt it is very important."
* The vision does not include plans to lift the ban on women driving. "Women driving is not a religious issue so much as it is an issue that related to the community itself that accepts it or refuses it," the prince said.
Tourism:

* The government aims to increase the number of religious tourists who perform the Umrah pilgrimage each year from 8 million now to 30 million by 2030, according to the vision document.
* "We are also targeting tourists in different areas: history, culture and also in some of the natural locations we think have extraordinary value, especially in the Red Sea," the prince said.
Before it's here, it's on the Bloomberg Terminal.
LEARN MORE