Mallya Faces Expulsion From Indian Parliament as Passport Voided
By and
Parliamentary ethics panel issues one-week notice to Mallya

Ex-billionaire said to be overseas as creditors seek payment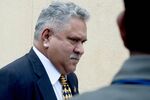 Vijay Mallya, the founder of the failed Kingfisher Airlines Ltd. who is now battling creditors, is facing expulsion from the upper house of India's parliament in the latest move by the government in its drive to recover soured loans.
An ethics panel of the house issued a "show cause" notice on Monday, giving him a week to explain why his membership shouldn't be canceled, Karan Singh, chairman of the committee, told reporters in New Delhi. The measure came a day after the foreign ministry revoked his passport. The government says he owes banks about 91 billion rupees ($1.35 billion) but is no longer in the country.
The latest move by lawmakers is part of a series of steps the government and the judiciary have taken in a bid to force the businessman's return to India. Lenders have rejected a one-time settlement proposal by Mallya, who's current term as a member of the Rajya Sabha ends on June 30, while an investigative agency, armed with a non-bailable warrant, is seeking his extradition.
"It is premature to say whether these measures by the government are enough to force Mallya to repay," said Gaurang Shah, a vice president at Geojit BNP Paribas Financial Services Ltd. "There are many grey areas regarding India's ability to extradite him. Recovery is going to be tedious if he doesn't cooperate." 
Seeking to Settle
Sumanto Bhattacharya, a spokesman for Mallya and his UB Group, didn't immediately comment.
Mallya, through his spokesman and lawyers, has denied claims that he deliberately defaulted on the loans. The tycoon offered last week to deposit $240 million with the Supreme Court to show his intent to repay debt. He previously offered 40 billion rupees by the end of September and a further 20 billion rupees if United Breweries Holdings Ltd., the parent of Kingfisher, wins a lawsuit alleging defective engines from International Aero Engines AG contributed to the carrier's collapse. Lenders rejected the 60 billion-rupee settlement offer.
Legal Advice
The foreign ministry said April 22 that it was seeking legal advice on Mallya's extradition a few weeks after the Attorney General said he had left India. The beer baron had said that he planned to spend more time in England to be closer to his children. As a member of the upper house of India's parliament, he had a diplomatic passport.
"We don't routinely comment on individual cases," the U.K. Home Office said in a statement. "As a matter of longstanding policy and practice the U.K. will neither confirm nor deny that an extradition requests has been made or received until such time as an arrest has been made in relation that request."
Mallya has maintained that Kingfisher was an "unfortunate commercial failure" because of macroeconomic factors and government policies. He has sparred with local media for portraying him as the poster boy for the nation's bad loans. The government had earlier ordered the suspension of his passport for four weeks before the arrest warrant was issued April 18.
Mallya, 60, presided over a beer and liquor empire a few years ago, a business he took over from his father in the 1980s. He started Kingfisher Airlines in 2005 and it was one of India's leading carriers until it was grounded in 2012 amid mounting debt. In 2012, Forbes ranked Mallya the 45th-richest Indian with a net worth of $1 billion.